Siobhan's
Big Gush!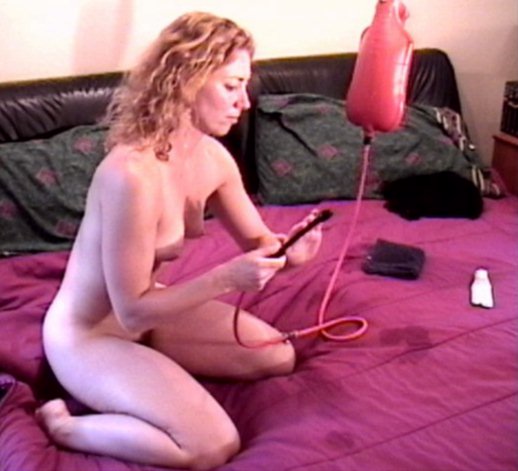 Siobhan is our new enema volume princess, having taken a full 3-quart enema in her competition with Anika. (See Anika and Siobhan II.) This video starts with Siobhan taking another 3-quart enema, just to be sure the first time she managed to do so wasn't a fluke.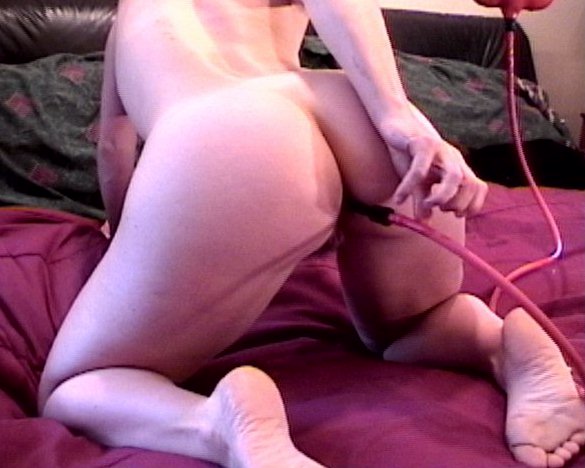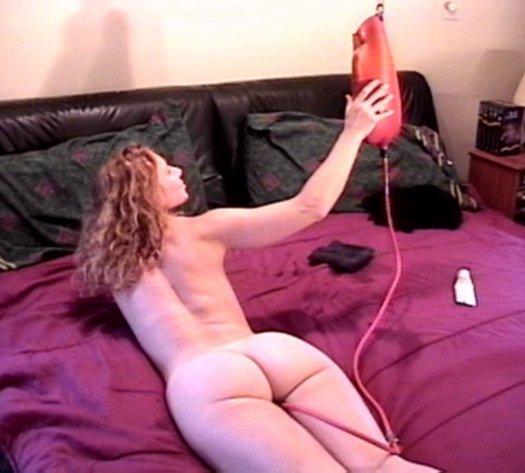 She uses a 1950's-vintage Rexall Kantleek fountain syringe with a black, hard rubber bulbous douche nozzle.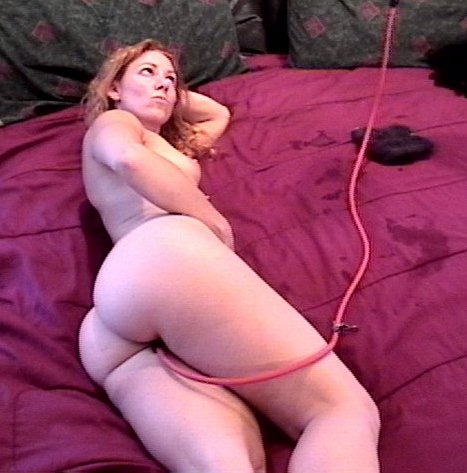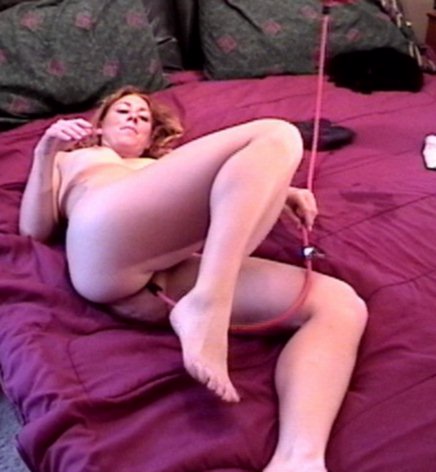 She got so full on her tummy, she had to turn, first, on her side, then lie flat on her back to get the whole 3 quarts in.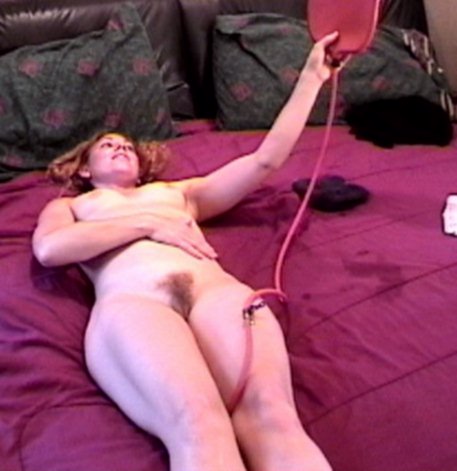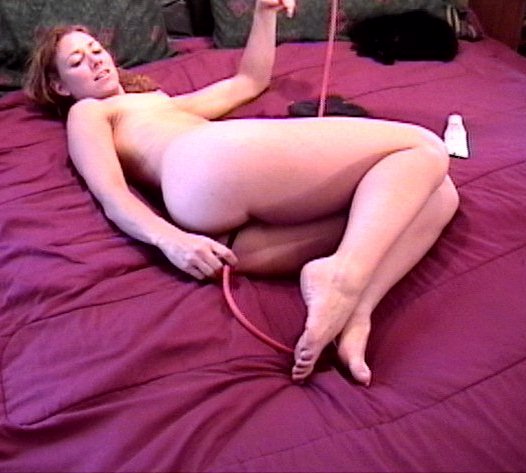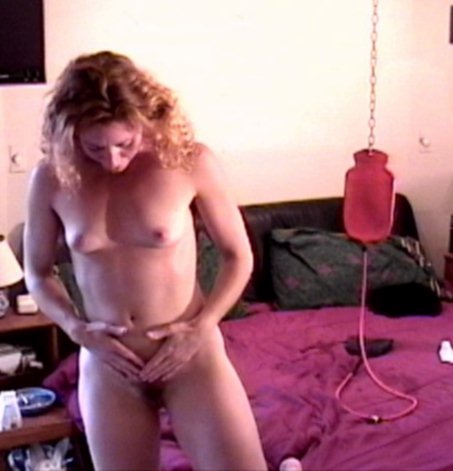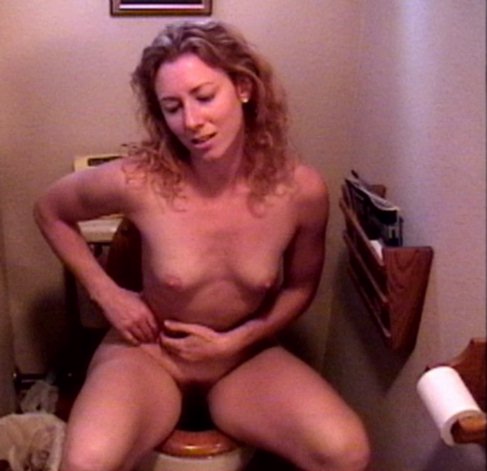 When she finished, she was one well-cleaned-out girl!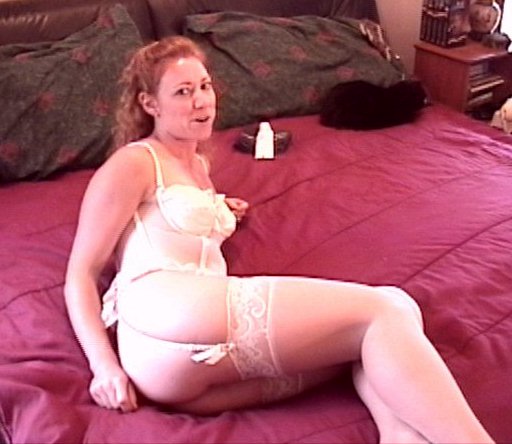 Another day, another enema. Siobhan decided to go for four quarts! What's more, she decided to up the ante by trying it while wearing a tight Merrywidow corset! She's a real glutton for punishment, eh? She started out by taking a normal 2-quart castile soapsuds enema from a B. F. Goodrich "Sojourn" folding travel syringe.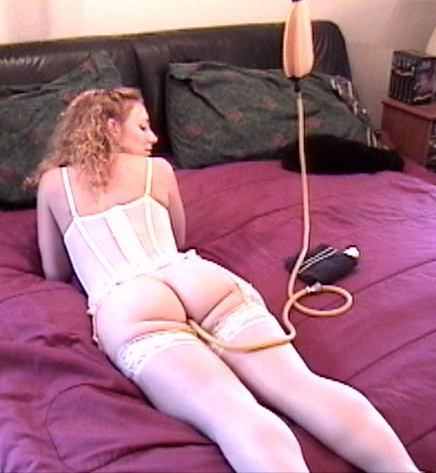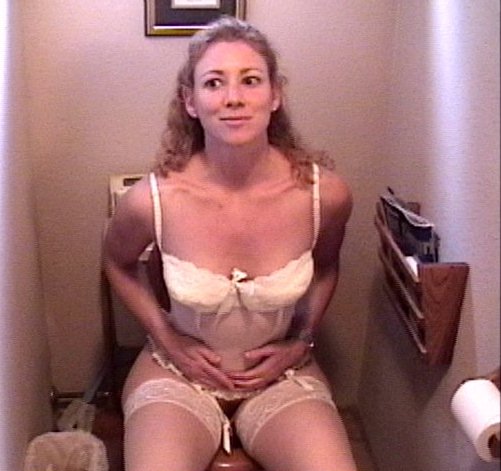 She hadn't tried soapsuds many times before, so the results were thunderous!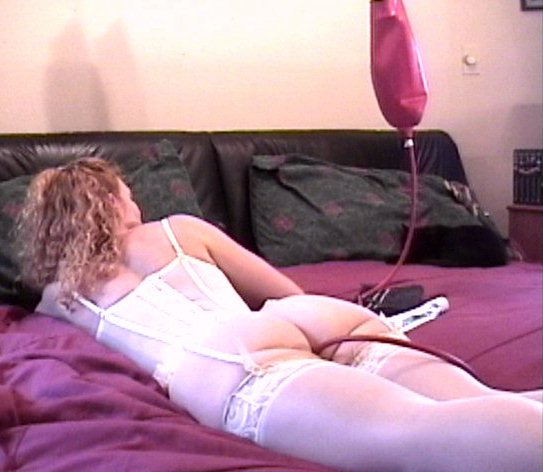 She picked out her favourite 3-quart bag, a Davol Paris fountain syringe, and tried to take as much of it as she could while lying on her stomach.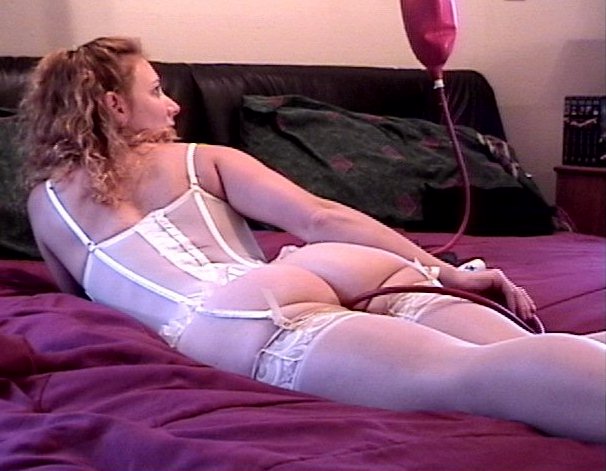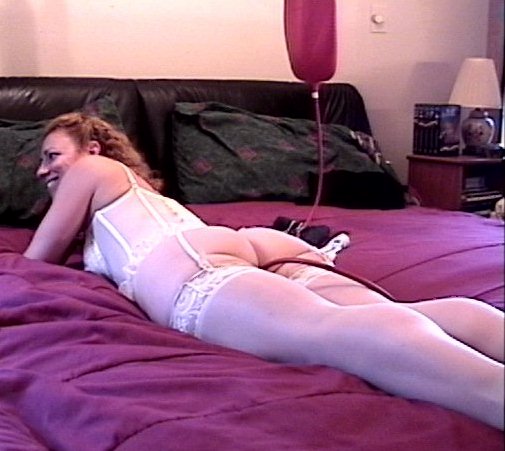 Her position and the merrywidow corset created some tremendous pressure!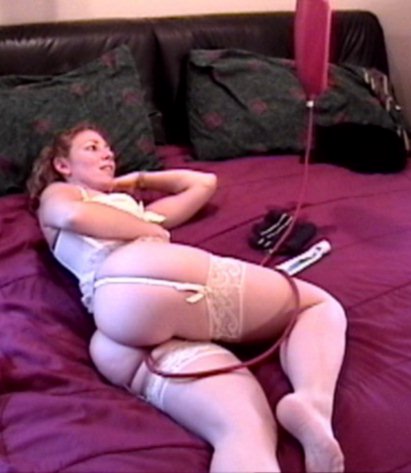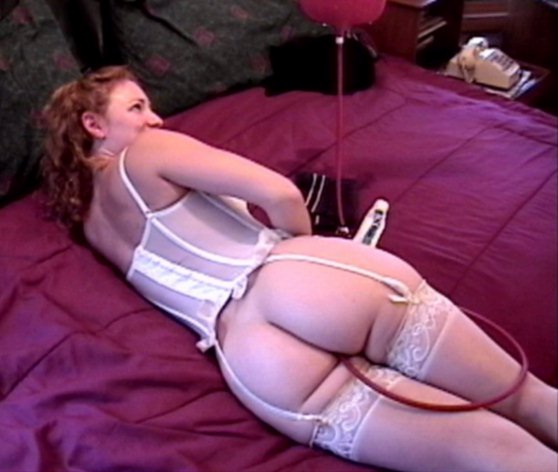 She finally had to give up and roll onto her side. (It was either that or explode.)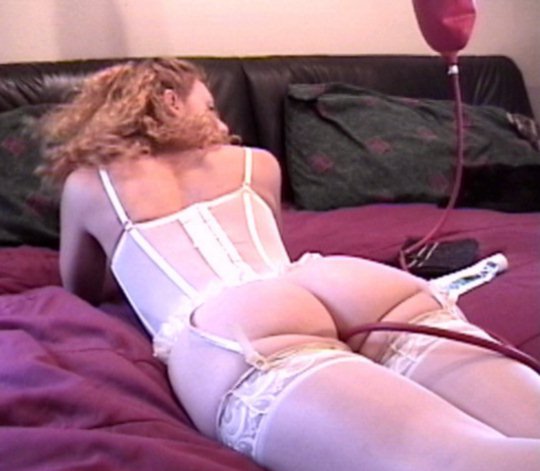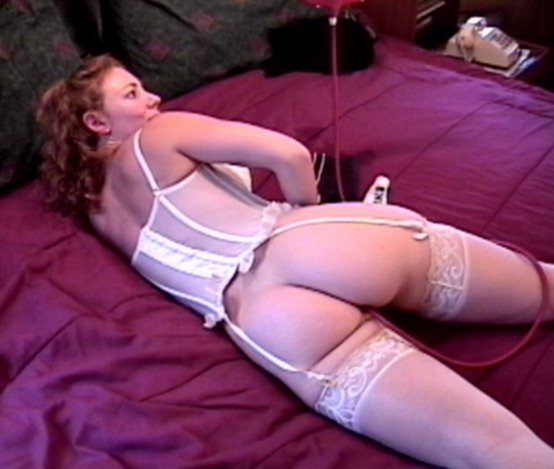 As the Davol emptied, Siobhan was in every position she could think of, all over the bed. And there was even more thunder on the potty!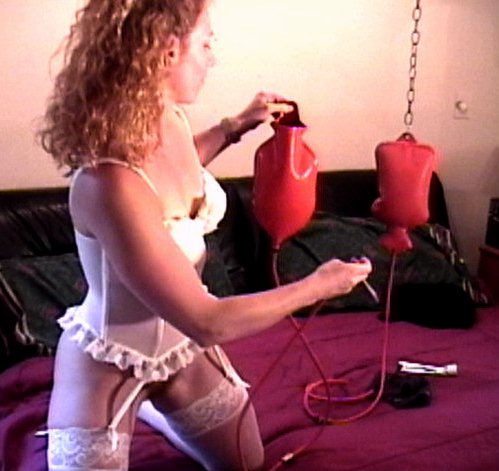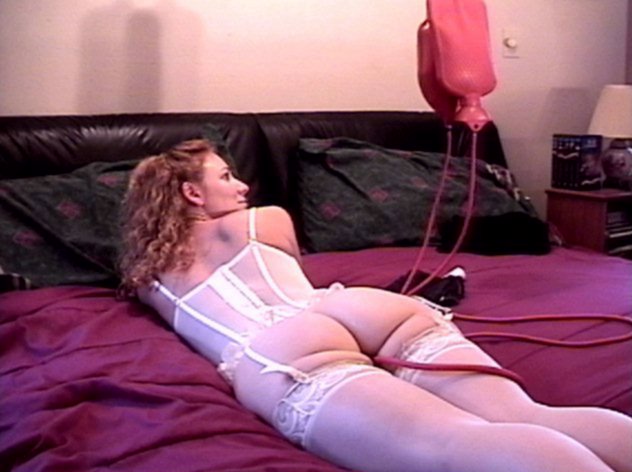 Still wearing the tight corset, Siobhan got out two separate two-quart bags: a Davol Comfy combo syringe and a "Merito" fountain syringe. She filled both to their full 2-quart capacity and hung both at once over the bed.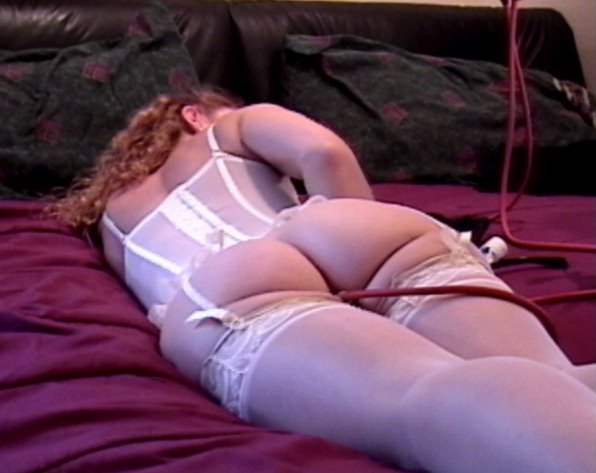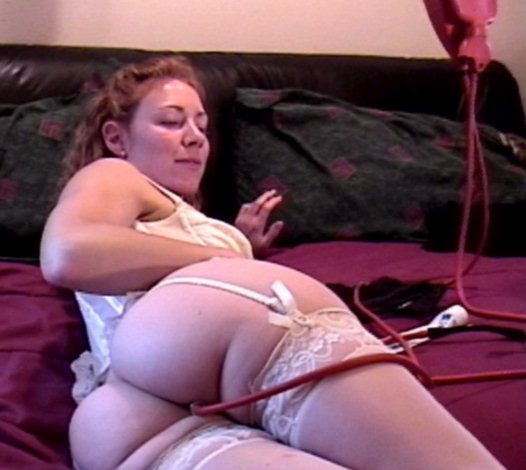 Right in the middle of the festivities, of course, Siobhan had to stop, remove one nozzle, insert another nozzle, then keep on taking more water. She was already feeling somewhat full when she finished the Comfy, but she was one determined girl and kept going with the Merito.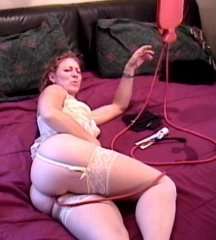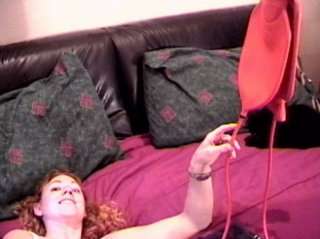 And, sure enough, she made it - with a big smile for the camera when she finished the second bag and showed off how it had gone completely flat.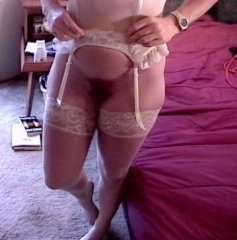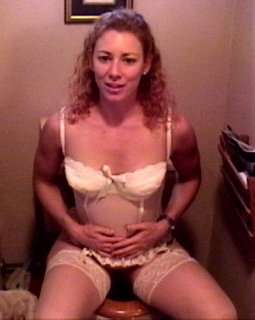 When she headed for the bathroom, her tummy was pressing out of the corset and, of course, more thunder ensued!
This is the video for large-volume enema lovers!
Time: 55 minutes
Price: $60.00
To order,
HOME / ENEMA VIDEOS / WHAT'S NEW / EQUIPMENT / STORIES / LINKS / CONTACT US

©2000 The Collector