3½-to-4-QUART DOMESTIC LATEX ENEMA BAG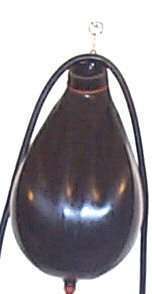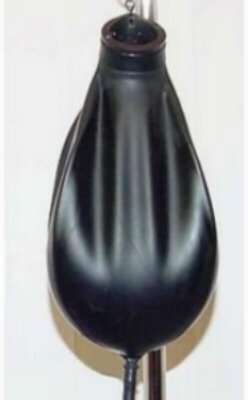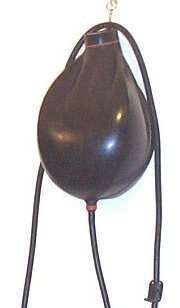 Here, you see three views of a bag designed by an avid enema enthusiast. You may have seen this bag in the video "Anika at E-Fest 2001 " It will hold between 3 1/2 and 4 quarts! It sports a soft rubber collar, 6 feet of 5/16" black latex tubing, and a color coded clamp. It has a chain and nickel-steel ring for hanging. You cannot believe the feel, of it, filled with warm water, it is soooo sensuous.
The looks are terrific but can be improved with the occasional addition of a coating of latex shine which is shown applied to the bags in the smaller pics on the right and left, but not included. A closed top design is available (by special order only) for $160.00.
They are in very short supply and the only way we can sell them is with your (the customer's) agreement that you're willing to wait for them to be shipped directly to you from the manufacturer. Most times, they're in stock for immediate delivery, but sometimes you may have to wait for more to be made.
Price, including domestic postage: $150.00
This bag does not include a nozzle.
We can currently supply a limited quantity of exotic and erotic inflatable retention nozzles as shown in the picture, below. The nozzle sets, including squeezebulb, are $170.00 apiece, including domestic shipping. They come in black, red and amber latex, so be sure to specify the colour under "Special Instructions" when you order.
To order, click here
HOME / ENEMAROTICA VIDEOS / STONEFOX VIDEOS/ WHAT'S NEW /ENEMA PHONE SEX/ EQUIPMENT / STORIES / LINKS / CONTACT US

©2002 The Collector