Tori
in
New Digs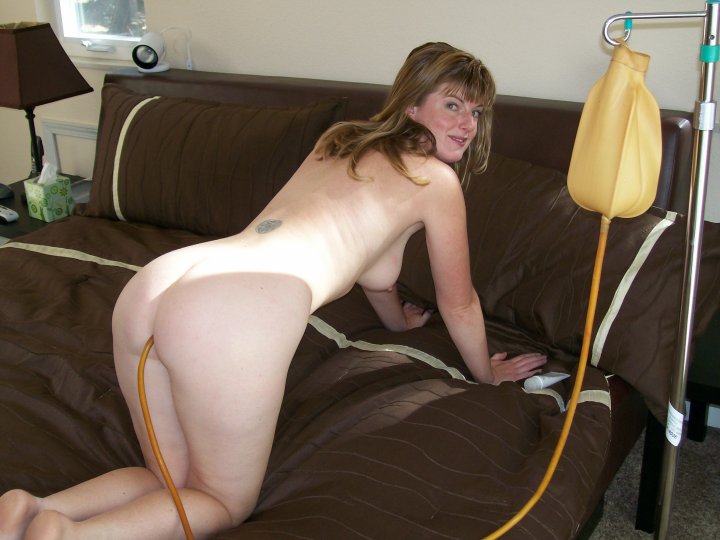 As most of you know, The Collector's house burned to the ground in a forest fire in 2010. The replacement Collector House is now online and this is the christening video, with Tori as Mistress of ceremonies!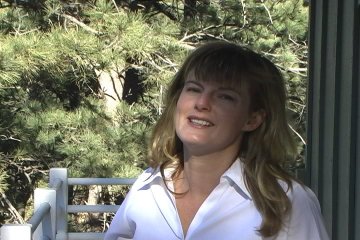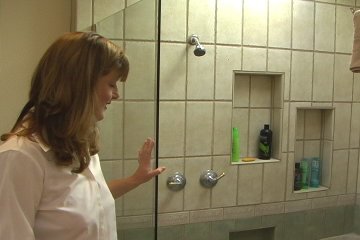 Tori starts with a short tour of the bathroom (of course).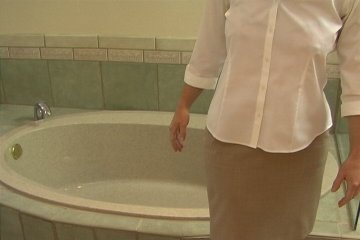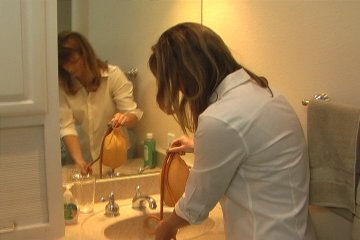 Then she starts the festivities using an amber latex folding syringe...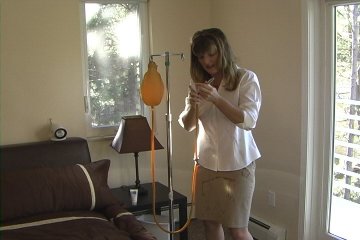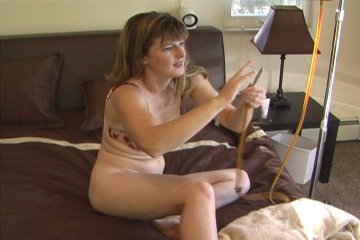 ...with a nozzle that doesn't want to stay attached to the hose.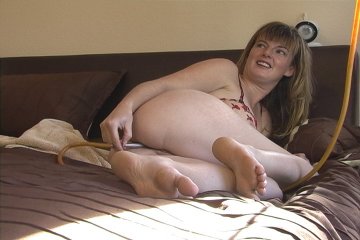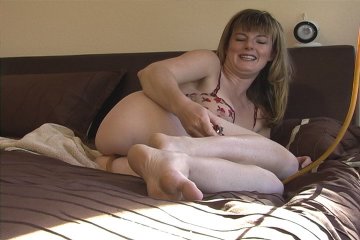 And awaaaayyy we go!
Nothing like two quarts of castile soap to start the day!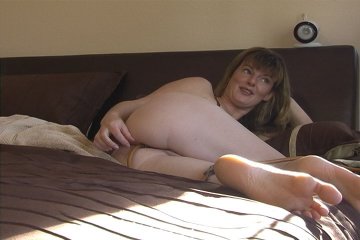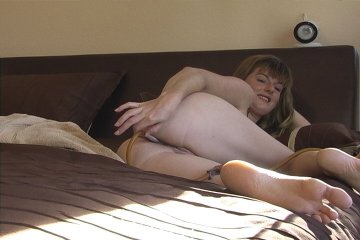 What better way to christen the new house than with an enema blooper. Halfway through the enema, sure enough, the nozzle separated from the hose and we had a mess on our hands... or, rather, on our bed. Tori's ability to perform complex plumbing repairs while being blown-up like a balloon are to be commended.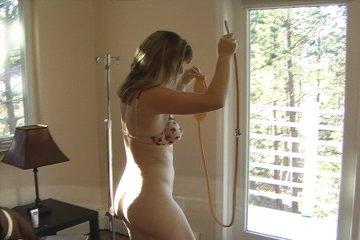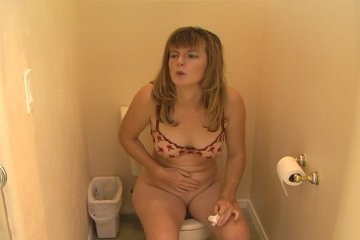 Tori ran to the bathroom and thundered chunks for a while.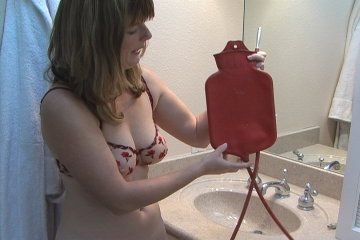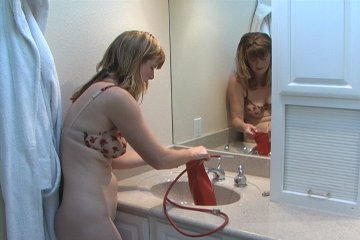 Then, she decided to try a bag that was considerably-larger - a Davol "Petal".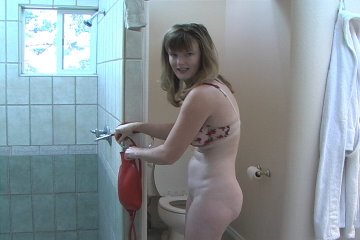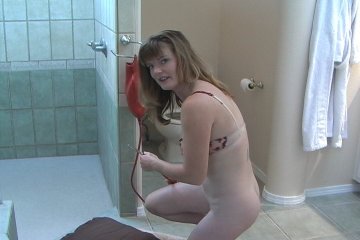 She found herself a comfy bath mat and pillow and made sure the nozzle stayed on this hose better than the amber one.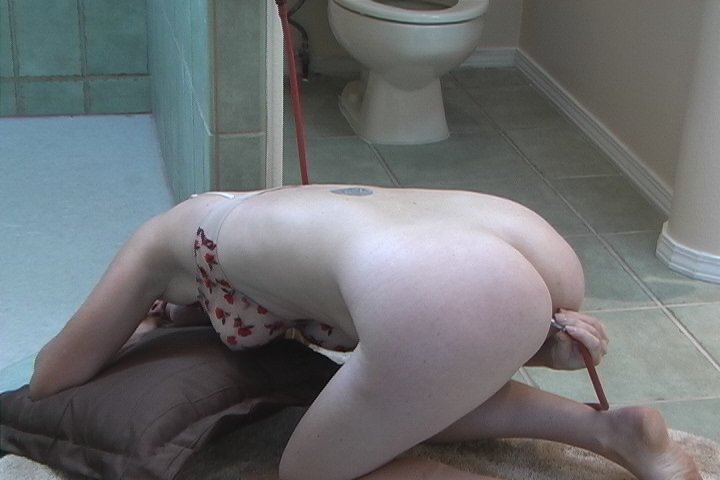 In this video, we've done something again that's garnered good reviews: instead of viewing cams A and B simultaneously (meaning we have to choose the view from one over the other) we display them sequentially on this DVD - you get to see the same moves twice in succession - first from Cam A, then from Cam B. Kinda like this. Cam A is above, Cam B is below.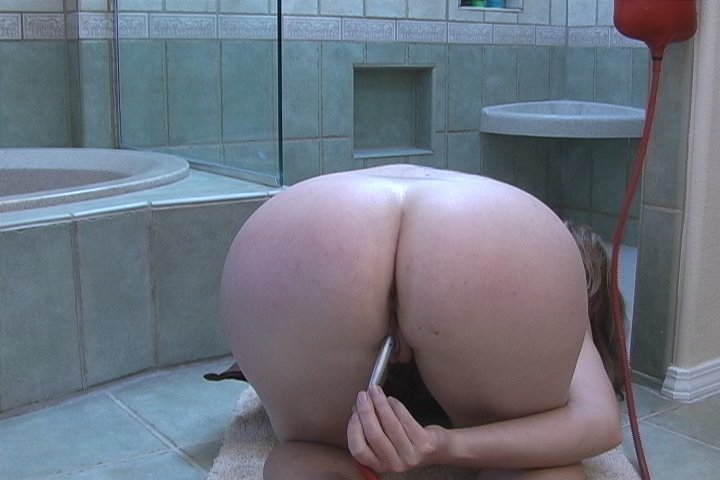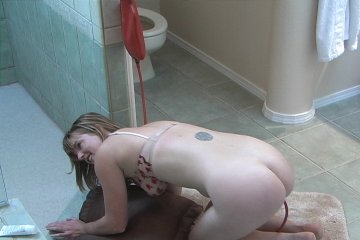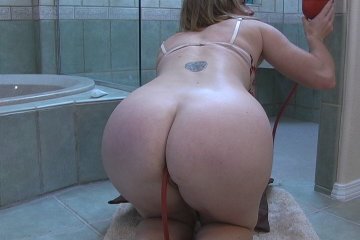 Tori must not have emptied herself as well as she thought with that first enema because she couldn't quite finish the 2¼-quart "Petal" bag.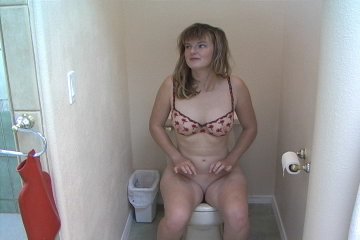 And it did, indeed, sound "productive" when she sat on the toilet.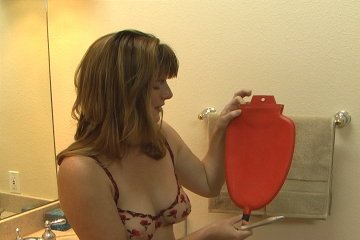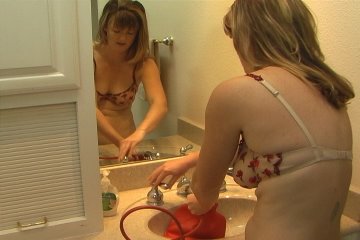 Now for one of Tori's favourite antiques: The Seamless "Nearkid". Tori wonders how it got the name "Nearkid". We think we know.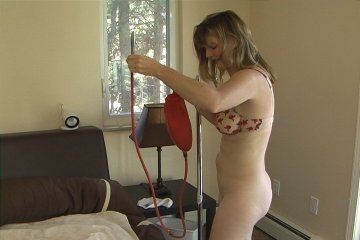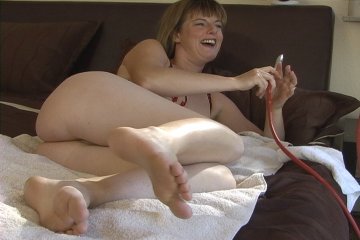 Tori lubes up the Silver Bullet nozzle...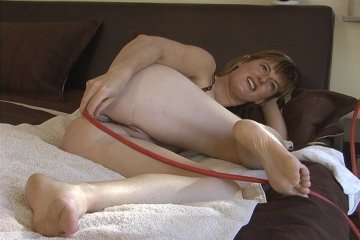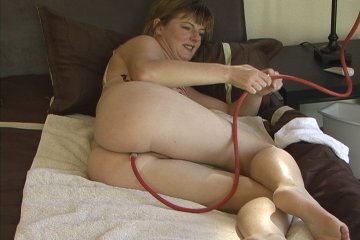 ...and proceeds to administer a 2½-wuart gusher!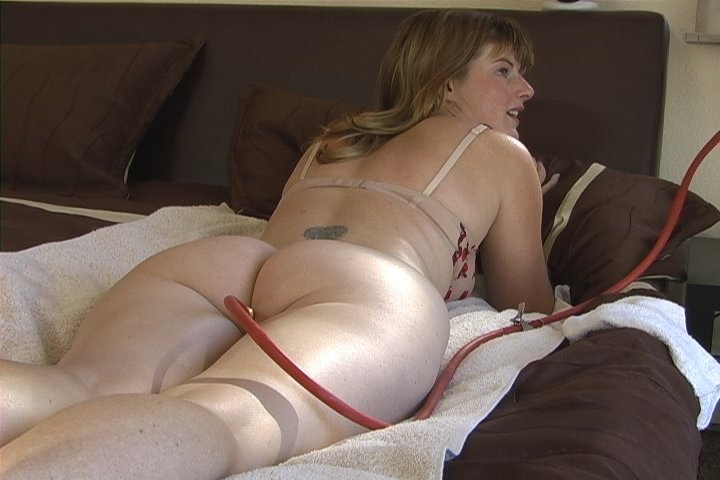 As always, The Collector goes for the best close-up and glamour poses. Shooting Tori always poses a problem because she's got gorgeous eyes and a gorgeous arse, but we usually manage to get both into the same frame.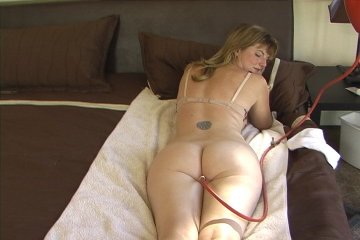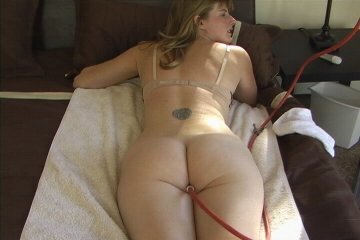 She looks like she's about ready to take a nap as she fills up.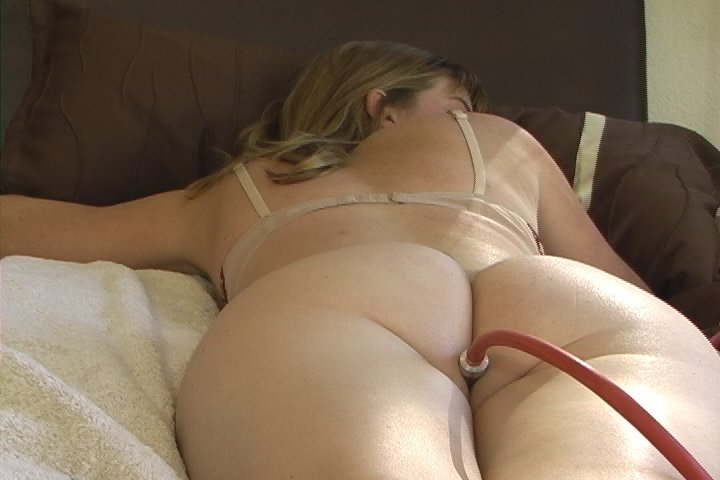 You can almost hear the water gushing in.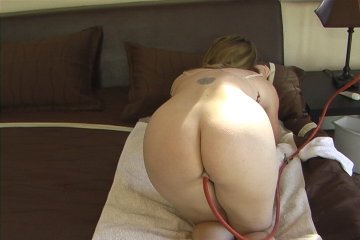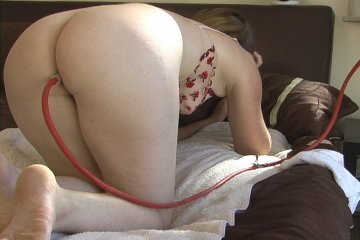 Finally, too much pressure to me flat on her tummy and she pulls up her knees, then rolls onto her side.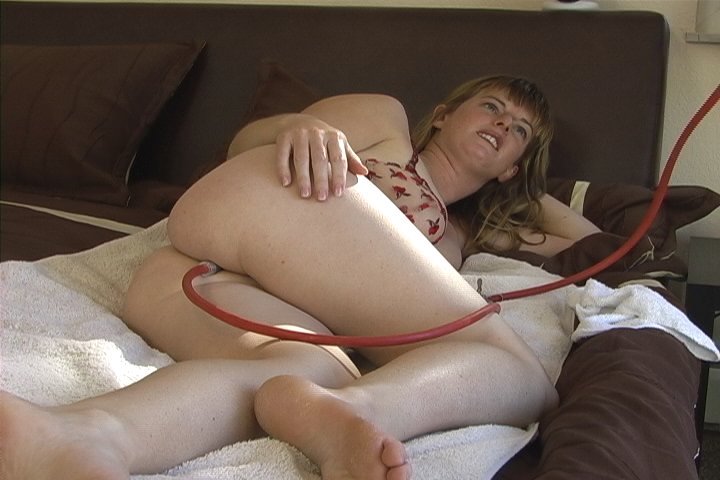 Getting full...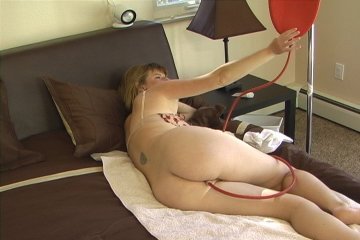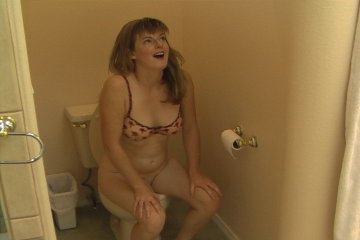 Good to the last drop, then, ohboy, what a release!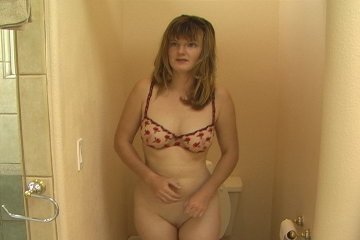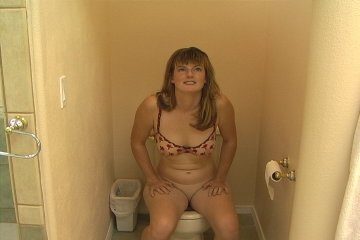 A little dancing around between movements helps.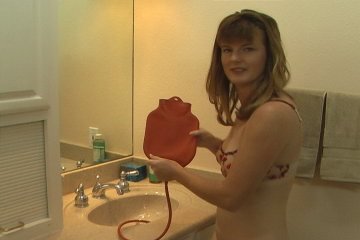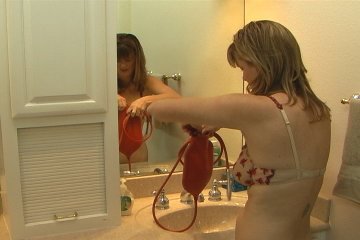 The old Davol Comfy fountain syringe should finish the cleanout.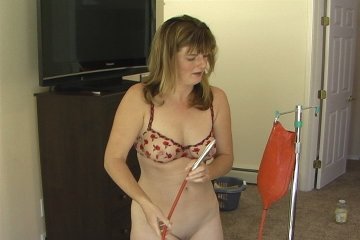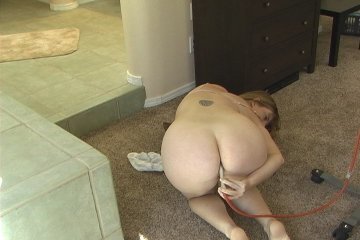 The new carpet's so plush, Tori decided to try it on the floor.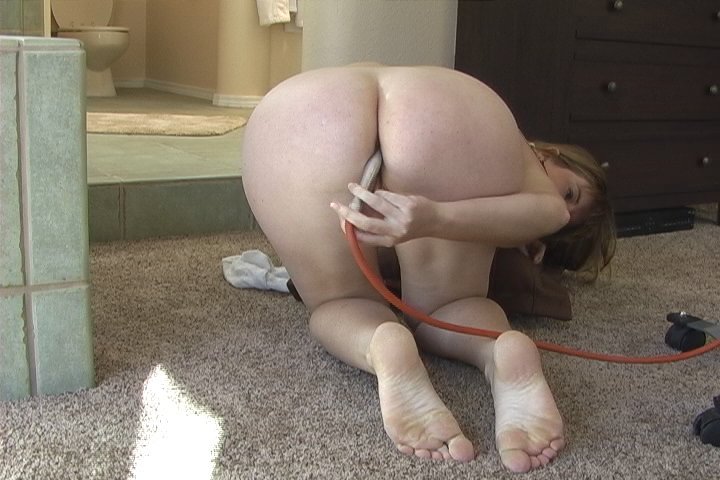 And we arranged the cameras to oblidge her.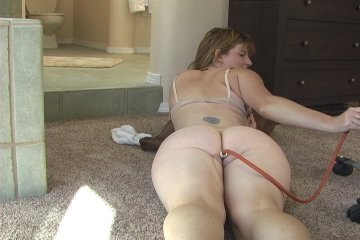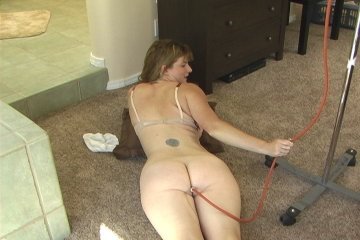 It was a high-speed gush!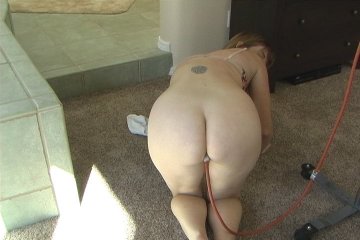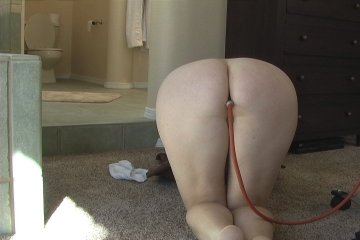 She slid her knees under her and got her arse in the sky to suck the bag dry as quickly as she could.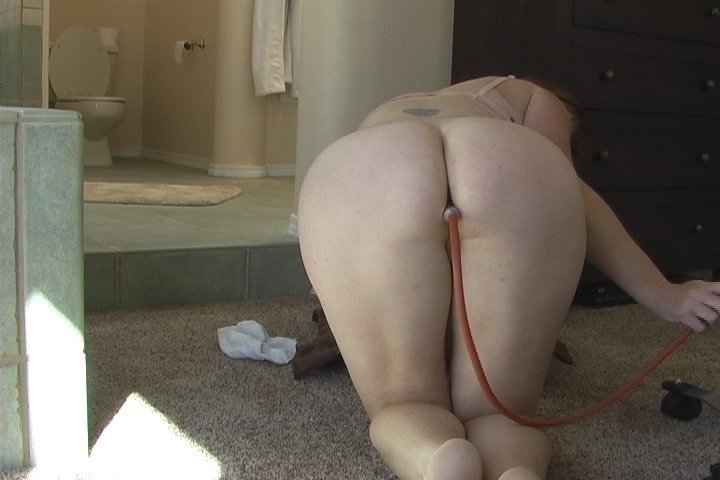 And it didn't take her long.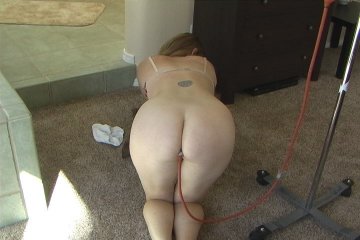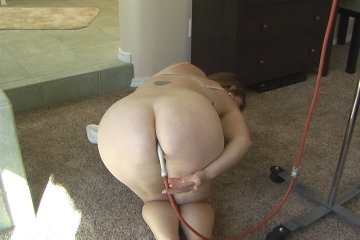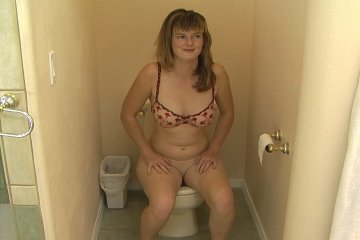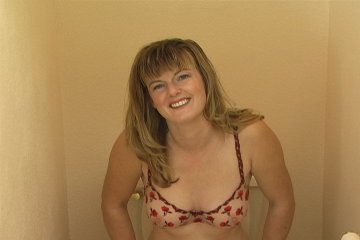 She finally felt properly cleaned out.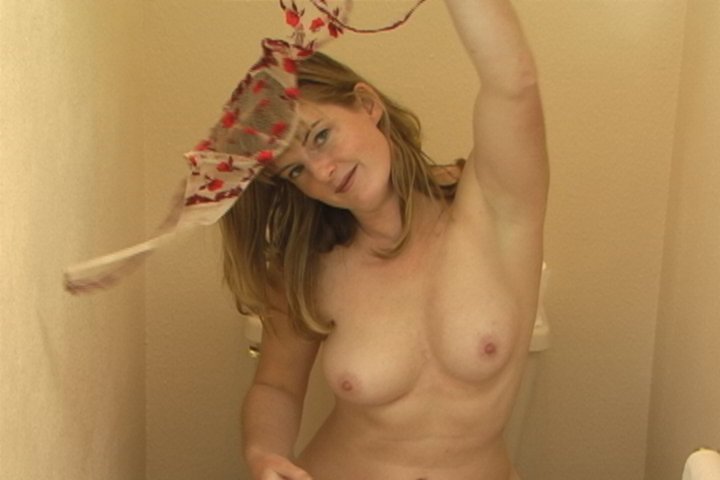 And that's when she remembered how much some of our viewers like to see her topless.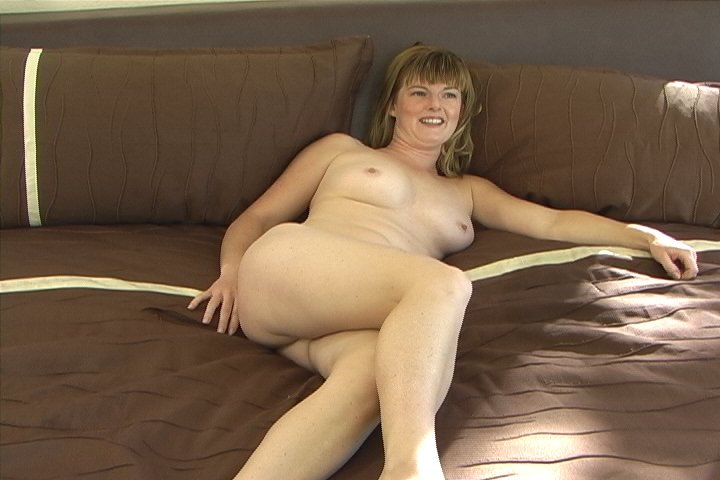 We consider the new Collector House officially-christened. Especially the bed underneath where the nozzle came off the hose.
Time: 1 Hour 9 Minutes
DVD: $34.95
Hi-Res Download: $14.99
18 U.S.C. Section 2257 Record Keeping Compliance Notice
Copyright © December 2011 www.Enemarotica.com