TORI'S NEXT VIDEO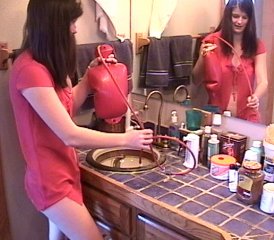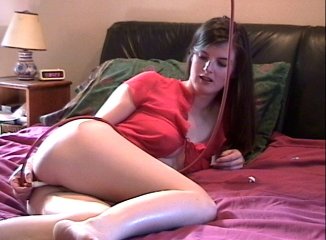 As usual, Tori can't stay away from The Collector's house very long before she decides she needs another cleanout. This time, she decided to start off with a fairly large enema. She took out a Davol "Paris" combo syringe, attached the douche nozzle and started having herself a little fun!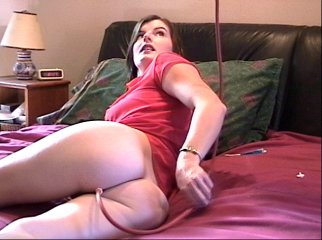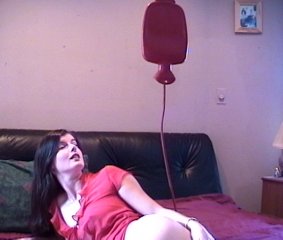 Three forther the way through the bag, she realized she may have bitten off more than she could......uh....chew. She was getting awfully full!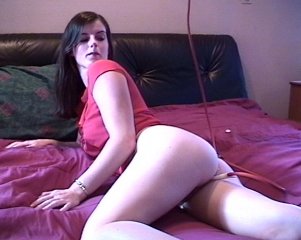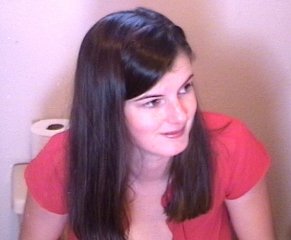 Toward the end of the enema, Tori was getting so full, the backpressure was pushing the nozzle out a bit! Her smile of relief as she thundered away on the potty was magnificent!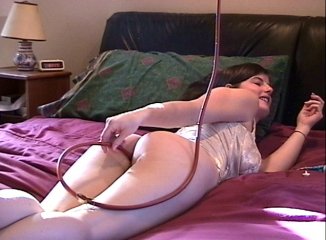 After quite a while on the potty, she still didn't feel like all of the first enema had come out, so she picked out a "normal-sized " 2-quart Davol "Comfy" syringe and sent in some water to help the first enema find its way out.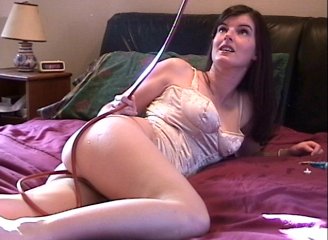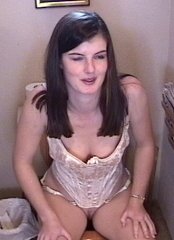 That seemed to do the trick - we heard a lot more "solids" coming out after her second bagfull! But since things still seemed to be somewhat reluctant to come out, she decided to bring in the "heavy artillary".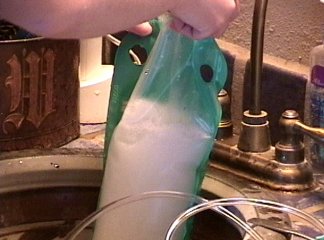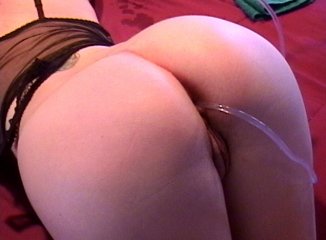 She grabbed a disposable hospital enema unit, complete with some very strong Castile soap, and proceeded to dumpe the entire contents into her colon in a very rapid manner.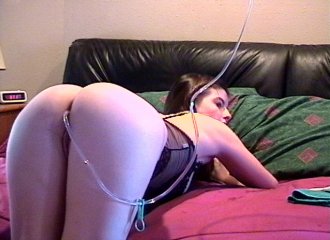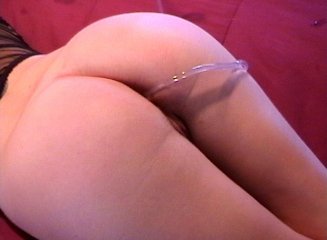 The heat of the water combined with the irritation of the soapsuds and, soon, Tori was writhing around on the bed!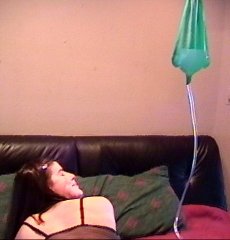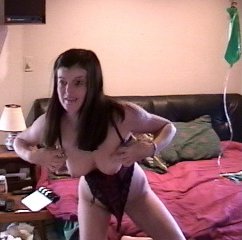 That soap is true "rocket fuel! Tori had to run for the potty, where even more solids were heard blasting their way out.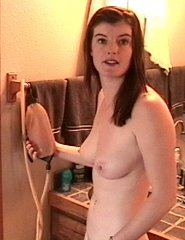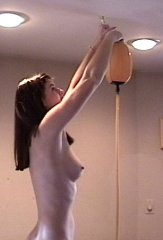 Tori then decided she was cleaned out well enough to make an assult on her old record for "the fastest enema on earth". She filled a B. F. Goodrich "Sojourn" amber latex folding travel syringe with two quarts of water and hung it, not from the usual chain, but directly on the ceiling! Talk about flow and pressure!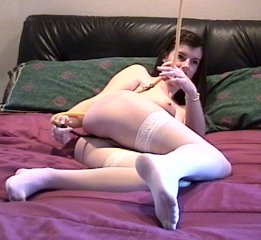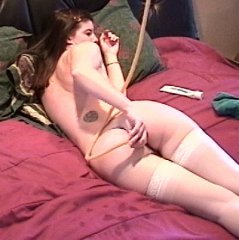 She made sure the Sojourn was equipped with the largest-diameter surgical rubber tubing around, attached a douche nozzle for even-faster flow, then slowly worked the long douche nozzle into her rectum.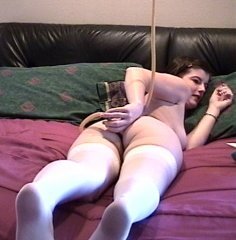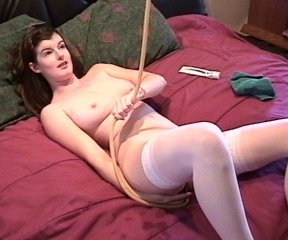 Once she had the nozzle in place, she turned on her back and counted down....3.....2....1....GUSH!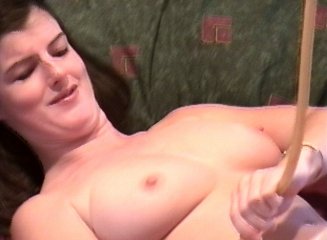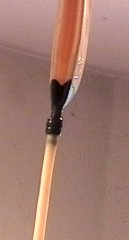 She grimaced as two quarts of water rushed, gurgling audibly, into her in 34 seconds flat!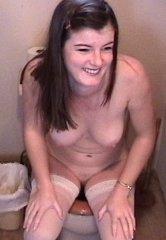 And what a relief it was to run for the potty after that one!
This video is a must-have selection for fans of large-volume enemas, fast gushes, soapsuds and, of course, our beautiful lass,Tori!
Time 1:00
Price: $60.00