Enema Soccer Moms II
"Reality TV"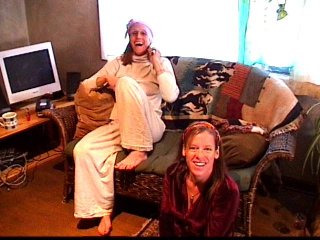 Here come our 30-something flower children again! Natasha and Cherie are always a recipe for delightful disaster. After making the first Enema Soccer Moms video, we decided the next video simply had to be a "reality TV" production. By that, we mean no special lighting, makeup, wigs or film set - just reality and a few things the girls weren't familiar with tossed in to keep things interesting.
We shot the whole video single-camera, with the cameraman following the girls around Natasha's house, kind of like the cameramen on "Cops" (but without all the violence). And, of course, we left the bloopers in. As a matter of fact, in the picture above, Cherie is saying, "Is the camera running?" Of course it was running, silly girl. We wouldn't want to miss any bloopers.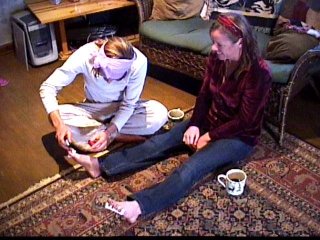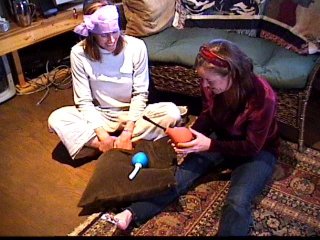 Here was the "script" for part one: the girls had never used a bulb syringe. The Collector arrived while they were giving each other pedicures and plopped down two bulb syringes, gave the girls a very minimal demonstration of how they worked and said, "I want you each to get two quarts of Ivory soapsuds using these - you two figure out how".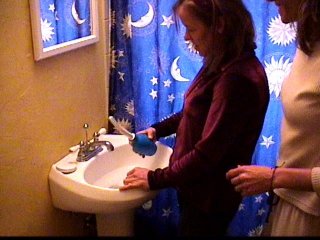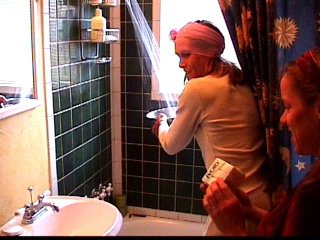 They practiced in the sink and got everything wet. We did have to stop filming for a minute to wipe the camera's lens and give them a little more instruction on how to expel the air. Then, while Natasha filled a big mixing bowl with a little over a gallon of hot water, Cherie unwrapped the Ivory.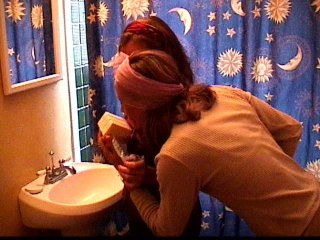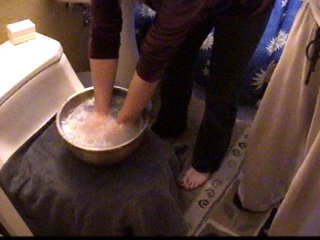 They decided they really liked the fragrance of the Ivory, then Cherie made sure there was plenty of it in the water.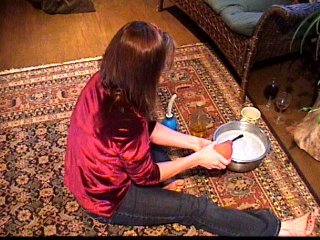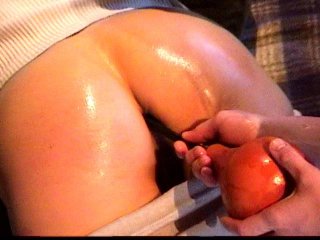 Natasha wanted to go first, so Cherie proceeded to do the honors and get the living room rug all wet.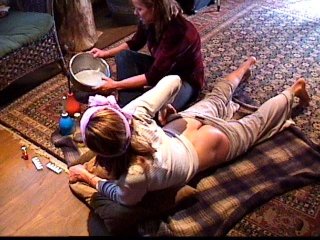 Once she caught on and started getting more water IN Natasha than ON Natasha, she managed to pump half the one-gallon mixing bowl of soapsuds into her. And that's when Natasha apparently took leave of her senses and suggested that she hold the enema, clean up the bulbs and give Cherie the rest of the bowl before they decided who got to go to the potty first.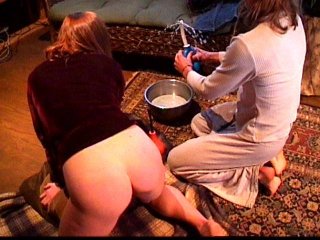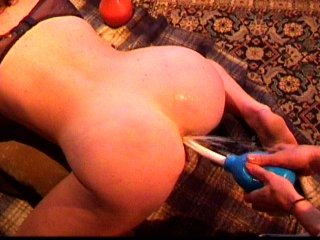 Natasha started right off with two bloopers. You'll note that, in the pic at left, above, Cheri has her velour blouse on. By the time Natasha finished squirting water all over the place and was ready to give Cherie her enema, Cherie had prudently decided to doff her blouse. Of course, you can see that Natasha managed to soak herself, too, when she gave the bulb a healthy squeeze before the nozzle was all the way in, at right.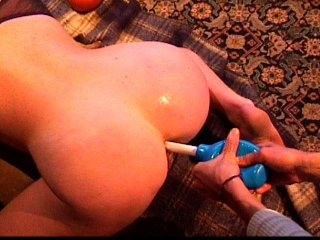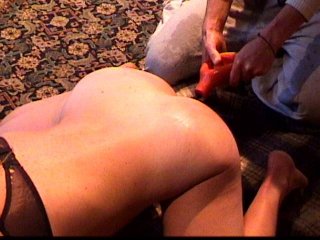 Never one to give up when soaking wet, Natasha managed to get the rest of the bowl into Cherie. While our methods were none too scientific, we estimated that the water-in-girl to water-on-floor ratio was high and that they each got around two quarts. And, as the soapsuds churned up a storm, Natasha took first dibs on the potty.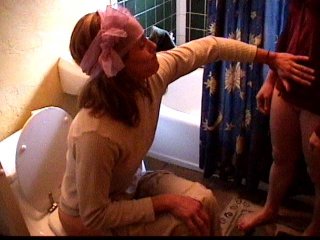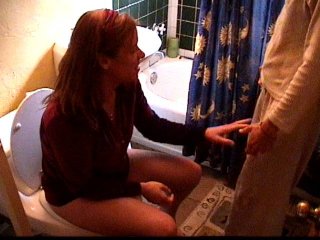 She teased Cherie a bit about her distended tummy while she expelled, but she did let Cherie get to the potty before it became an emergency situation.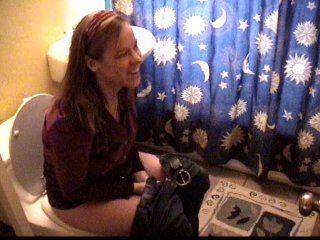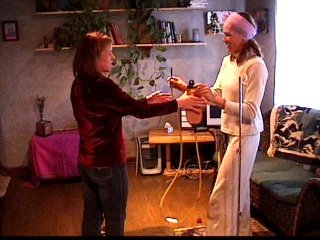 Natasha then suggested that they could both stand to have a thorough clear water rinsing-out after all that soap and got out an old B. F. Goodrich "Sojourn" amber latex 2-quart folding travel syringe.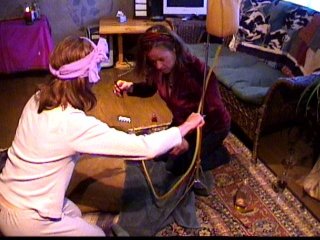 Cherie thought that was a great idea, but before she could give Natasha her clear water enema, she had to dash off for the potty again, herself. And then she had to do it again! Either she got more of the soapsuds than Natasha or Ivory really works wonders on her system because she thundered and splooshed for quite some time before she was able to vacate the toilet and give Natasha the clear water enema.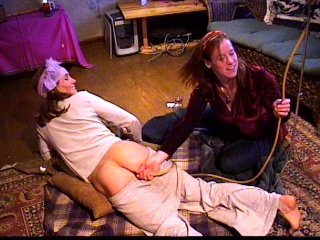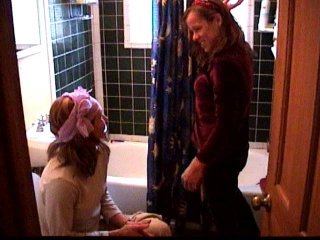 Cherie gushed two quarts of clear water into Natasha, then stood by while she emptied her colon.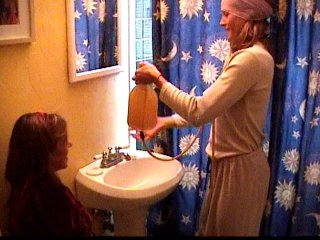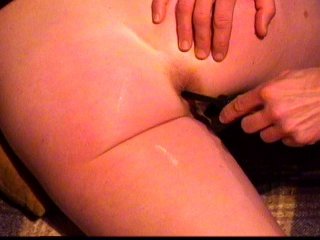 Then, Natasha gave Cherie the same dose of clear water she'd just had.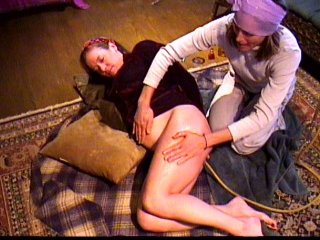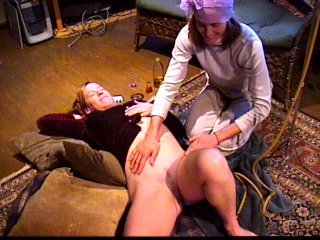 Cherie must have had some soapsuds left in her, because she was really full, by the time she finished the Sojourn, as you can clearly see from her distended tummy.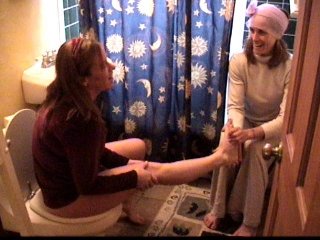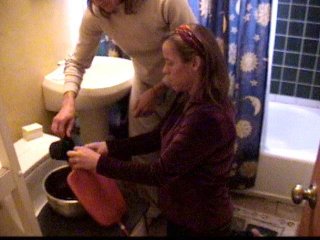 Natasha gave Cherie a foot reflexology treatment while she was on the potty to help her eliminate more thoroughly, then they brewed up a big pot of Natasha's Camp Coffee and started filling a Davol Paris fountain syringe.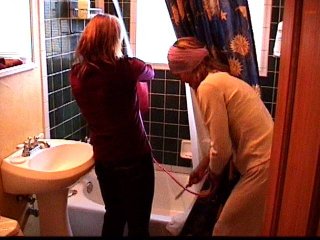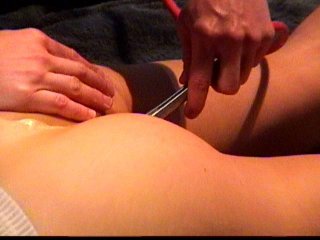 The Paris fountain syringe says "2½ Quarts" on it, but that's filled normally. If you overfill it to where the water's spilling over the top, it can actually hold within an ounce of three full quarts. The girls dumped in half a pot of coffee, then overfilled the bag with water from the shower and attached a Silver Bullet.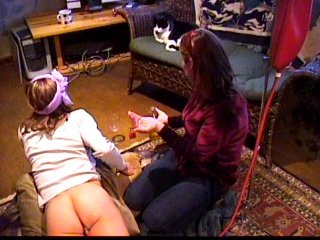 Natasha managed to take the entire bag and she had a great coffee buzz coming on as she went to the potty!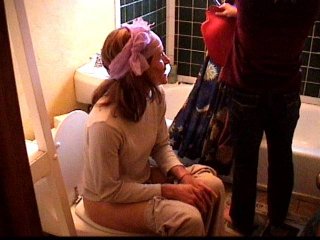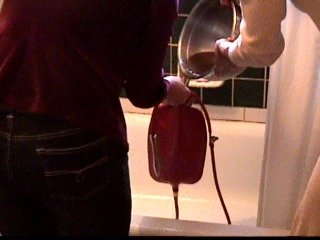 As Natasha unloaded, Cherie got the Paris ready for herself. When Natasha was off the potty, the girls poured the remainder of the coffee into the Paris and topped it off with water.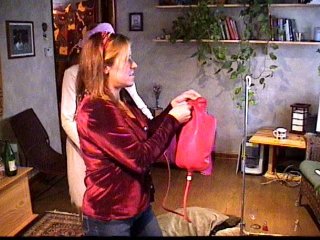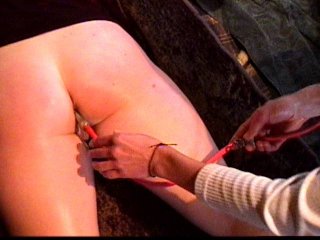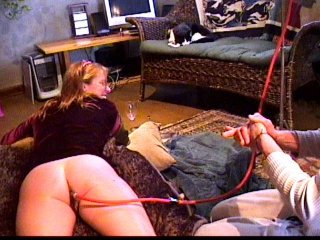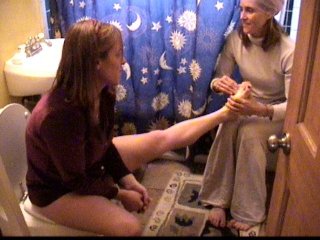 Natasha then overfilled Cherie and helped her uncork with another foot massage while the coffee buzz came on. We filmed Cherie on the potty until the last trumpeting gush!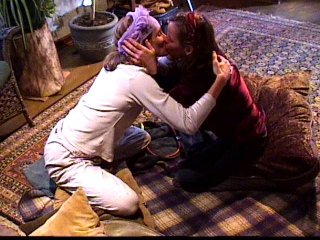 By the time they finished, they'd both had a great cleanout and they had a coffee buzz going, too. As The Collector packed up and left with his camcorder, they were considering exploring some other new possibilities, but, then, Cherie had to run to the potty again. We guess those explorations will have to wait for their next video together.
If you want to see reality TV- just some good, down-to-earth, completely-real enema fun - these two are your girls! Their experimental attitude, lack of experience with bulbs and all their cute mistakes along the way add to the fun!
Time: 1 hour 11 minutes
Price: $70.00