Kaz's Korner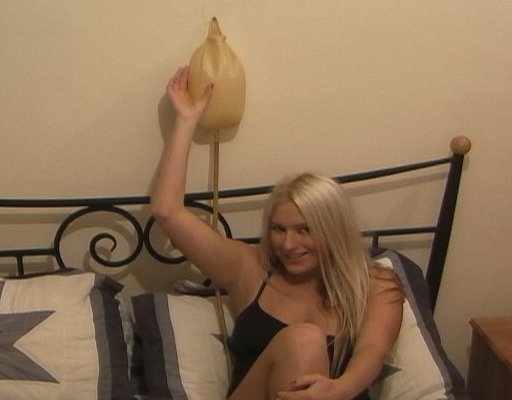 Once again, our fun-loving girl made the mistake of going to the beach when the weather was simply awful.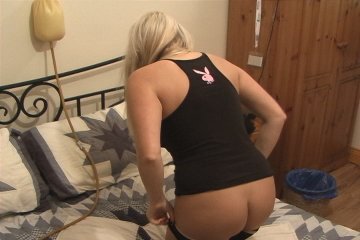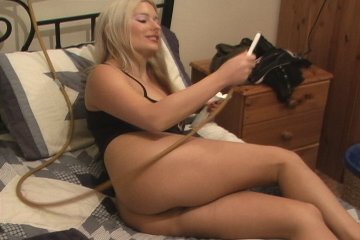 And, once again, she found something else to fill her time...and her colon.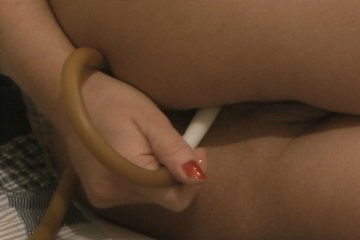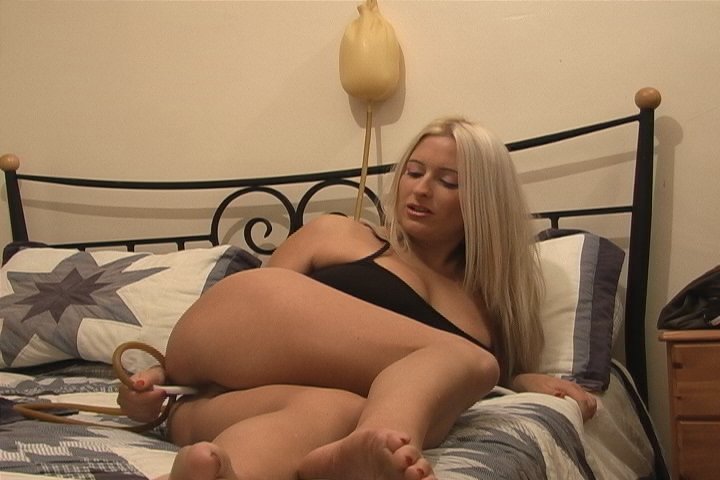 Starting with a replica of a 1960s-vintage amber latex folding travel syringe which The Collector hand-made especially for her, she inserted the nozzle and let the soapsuds gush forth.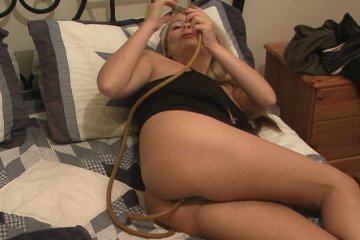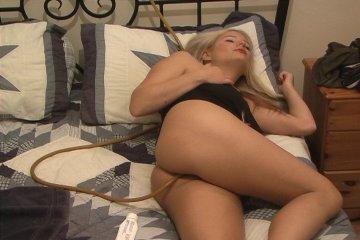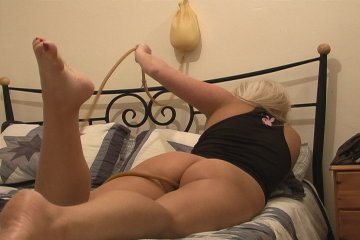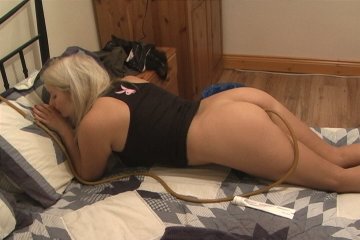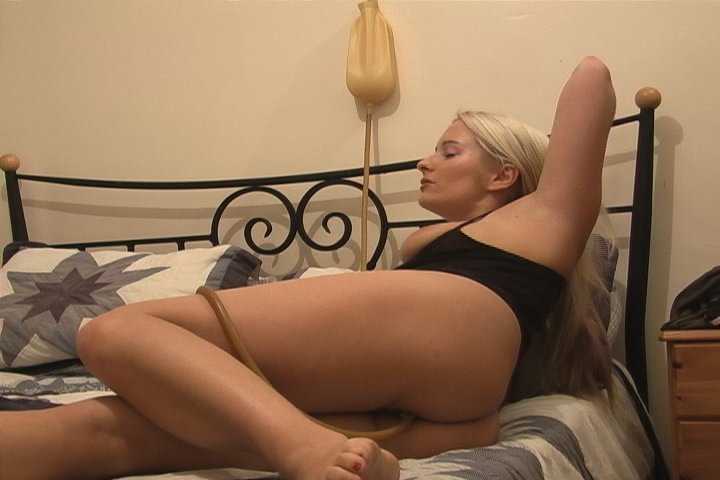 Three-fourths of the way down the bag, she was still doing well....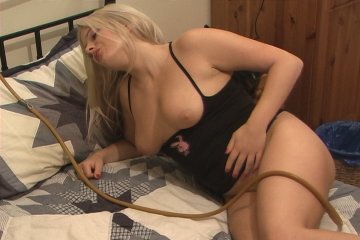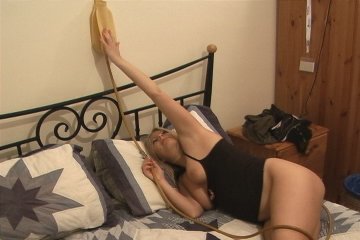 until some sudden cramps set in.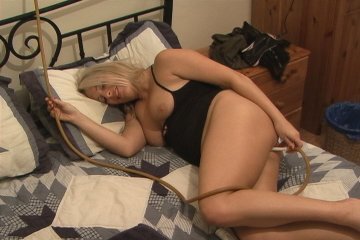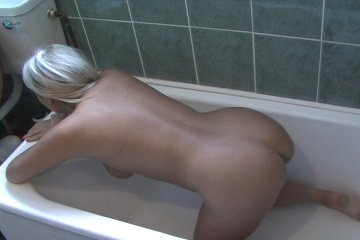 She did manage to finish the entre bag, though. She let us all see what had been plugging her up by expelling it in the bathtub with enough force that The Collector ended up having to hose down the walls in the bathroom.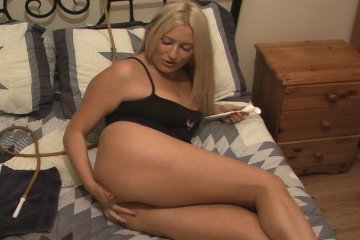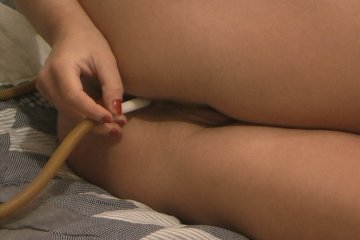 She decided she hadn't gotten enough out and that a second bagful was in order.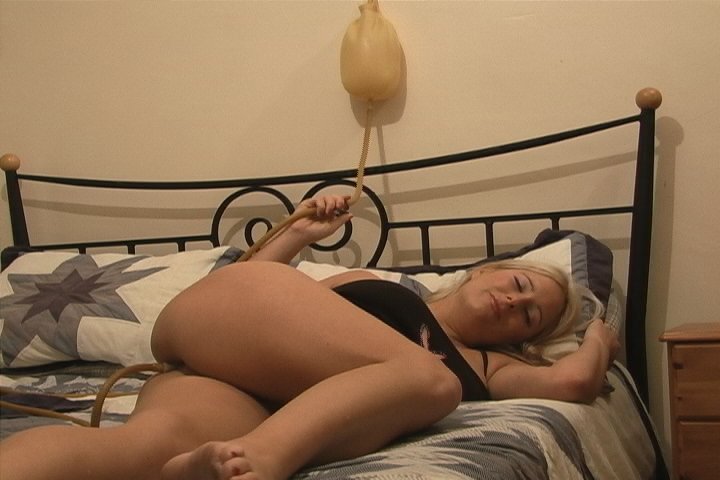 We simply love the look she gets on her face when she feels the first warm gush.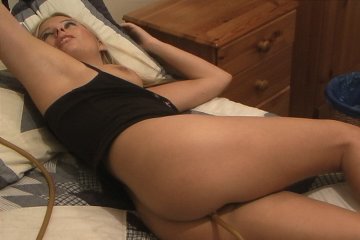 We like the sounds she makes, too, but you'll have to buy the video to hear those.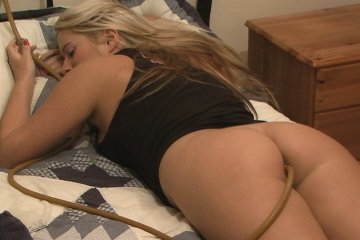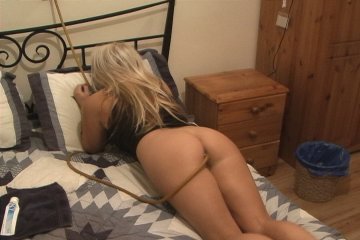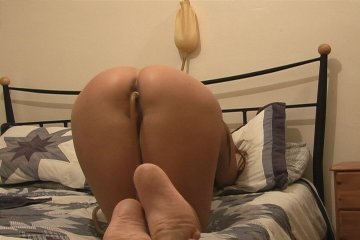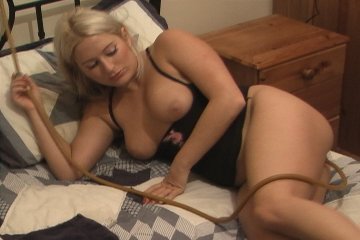 Once again, it took a long time and a lot of shifting positions to get the full bag in.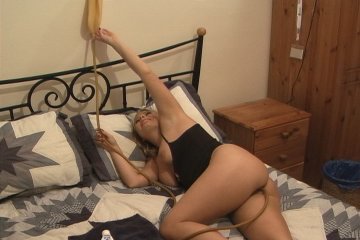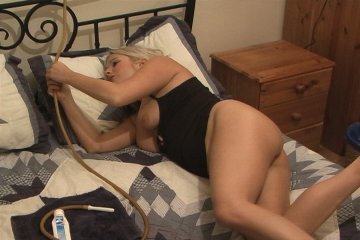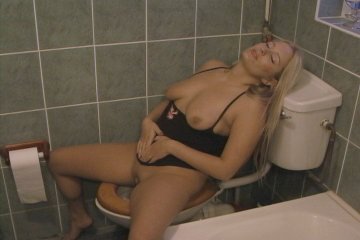 But she did manage to hold it all and she didn't even leak a single drop while running to the toilet.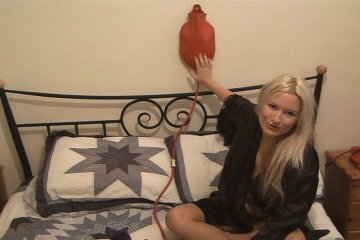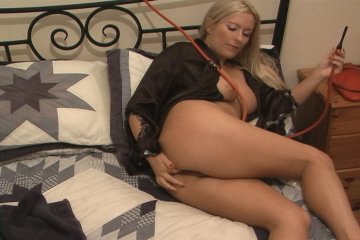 Not one to leave a good thing alone, she got out the antique Miller "Cameo" fountain syringe with its old black hard rubber nozzle.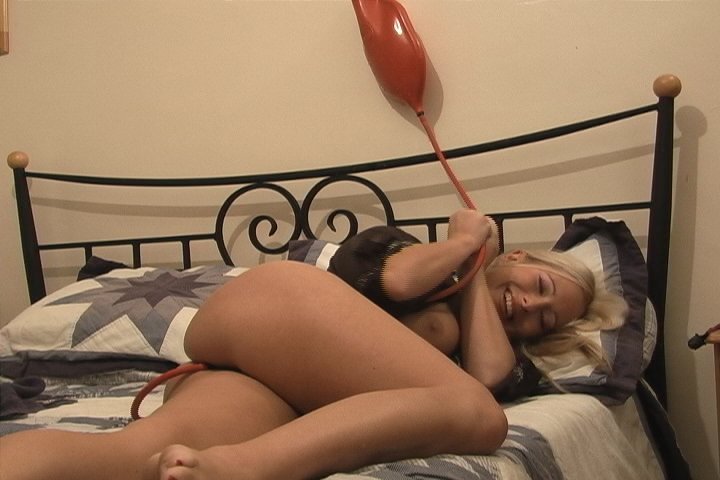 Did we mention we enjoy seeing the look on her face when she starts the flow?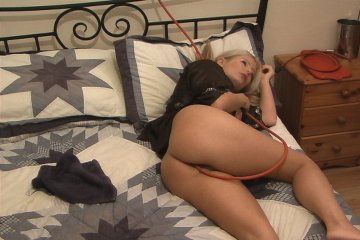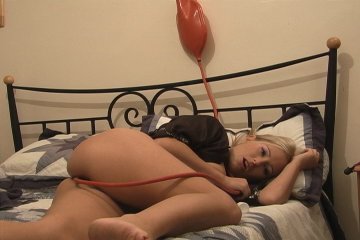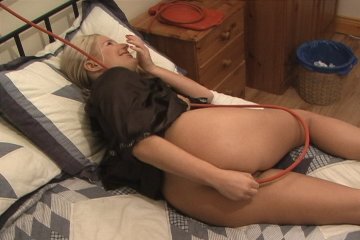 Kaz fans will recognise the left-hand picture, above, as her way of giggling through a case of enema-induced hiccoughs.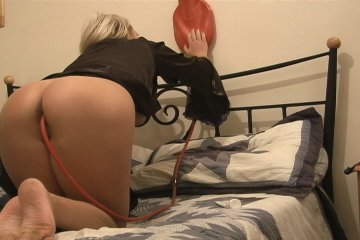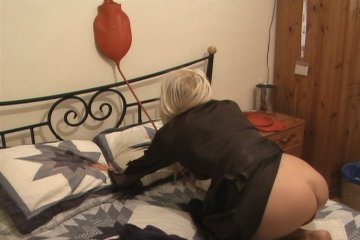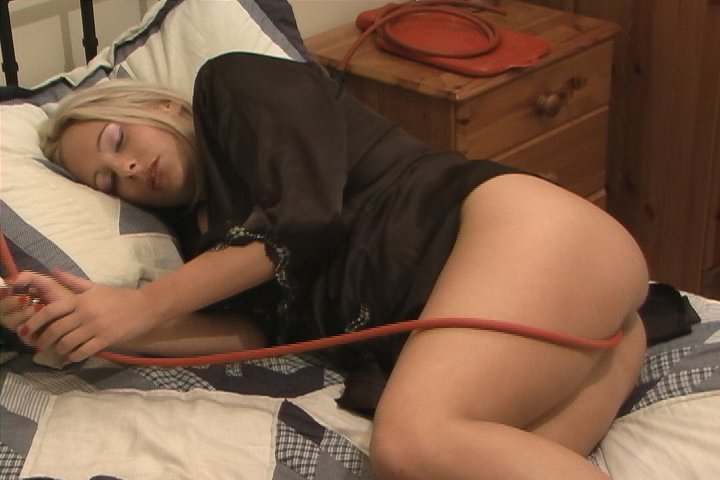 Almost done....ohhhhhhh...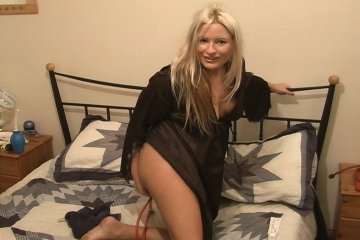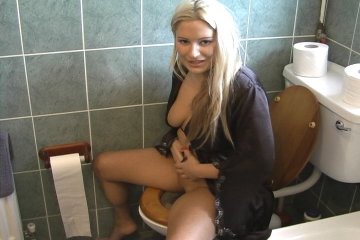 Kaz got a bit carried away and pushed the nozzle in past the hilt, then wondered why it felt like it was stuck when she tried to pull it out.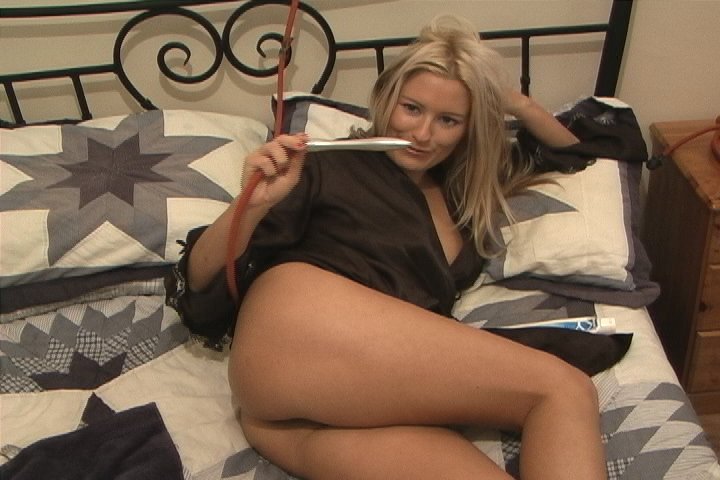 So, we decided to give her a nozzle she couldn't lose up in there - the "Silver Bullet", available only from Enemarotica..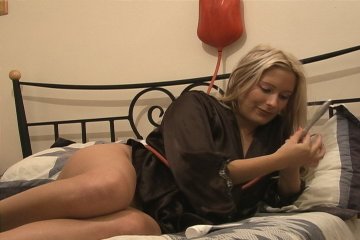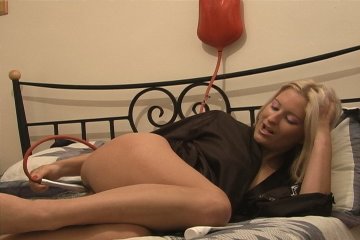 First, a healthy amount of lube...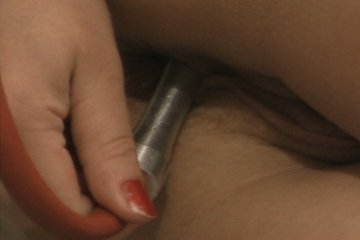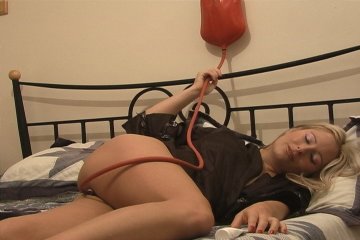 Then, hoo-chee-mama! What a feeling!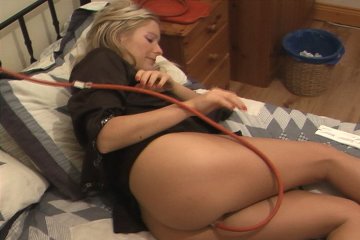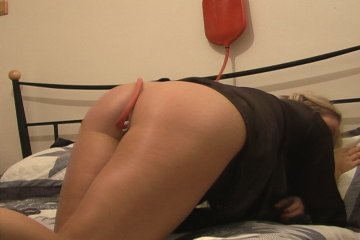 Kaz barely managed to finish the Davol Paris fountain syringe.
Good to the last drop!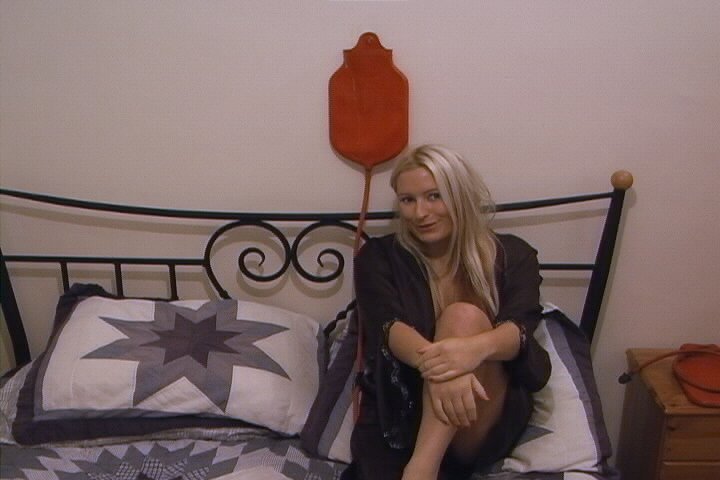 Here, she's looking rather proud of herself for taking that big bag as well as feeling marvelously cleaned-out!
Time: 1 hour 19 minutes
Price: only $60.00*
Click here to order - or select a link, below.
Copyright © November 2009 www.Enemarotica.com
HOME / ENEMAROTICA VIDEOS / STONEFOX VIDEOS/ WHAT'S NEW /ENEMA PHONE SEX/ EQUIPMENT / STORIES / LINKS / CONTACT US
18 U.S.C. Section 2257 Record Keeping Compliance Notice
*The Collector hasn't raised video prices in over ten years. Interested in knowing how we price our videos? Click here.
---
Kaz has her own website!
~Free Pics and Videos~
~Competitions~
~Free Adult Forum~
~Freebies for Members~
You can even have a webcam session with Kaz!
go to www.ChampagneTease.com
E