Jennifer & Justin & Michelle
in
Drop In For Coffee, Sometime!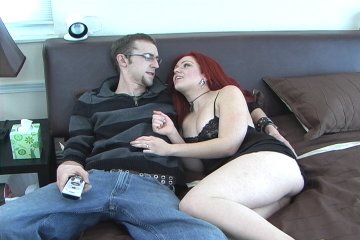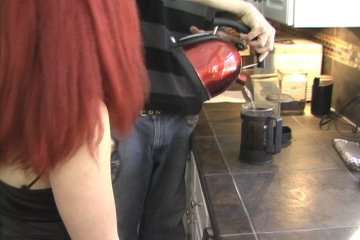 Jennifer and Justin were hanging out, watching the telly, when Jennifer sprung the idea on Justin that she wanted a coffee enema. She's even prepared with a couple of cleansing enemas earlier in the day. So, off to the kitchen they want.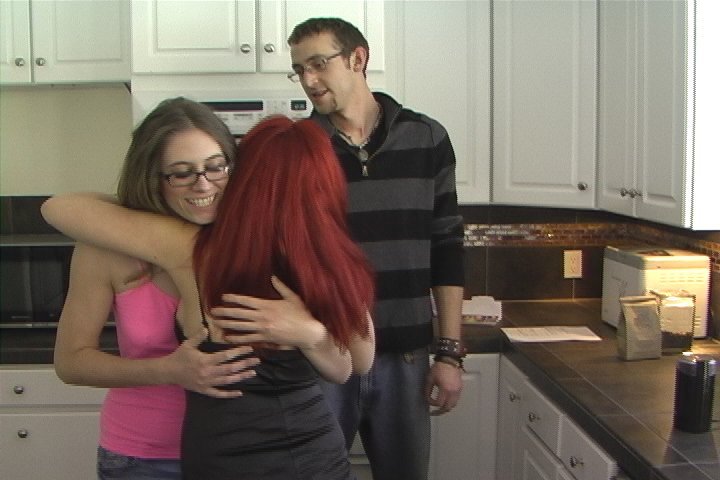 While the coffee was brewing, who should turn up at the door but their old friend, Michelle. Michelle was totally new to all this, but she sounded interested.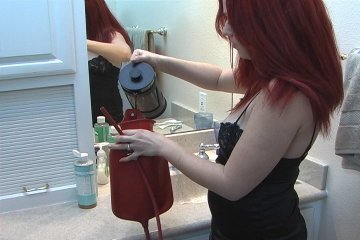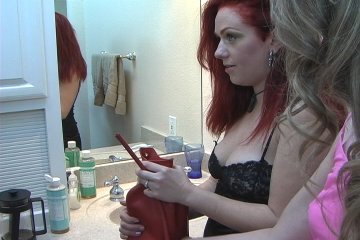 Upstairs to the bed and bath, where Jennifer mixed coffee and water to get the right temperature and concentration, then decided what nozzle she wanted.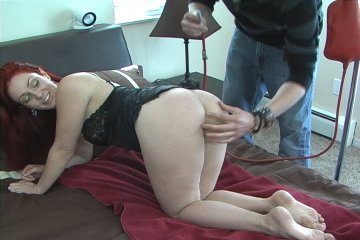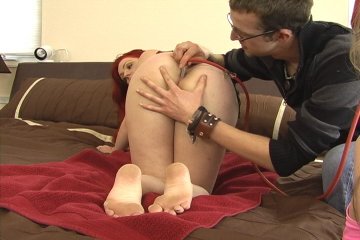 Choosing a mini-bullet, she had Justin do the honours.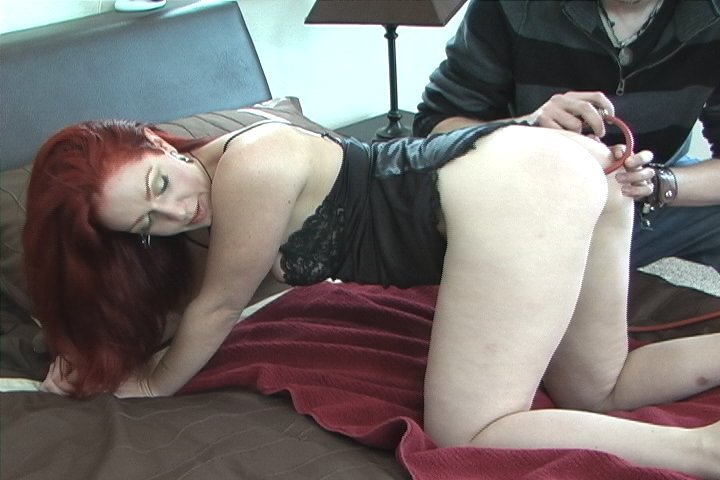 And, of course, The Collector caught it all in brilliant, close-up fashion.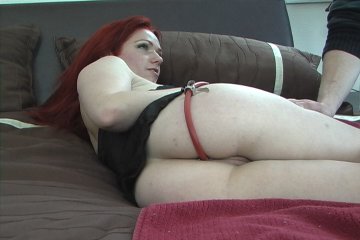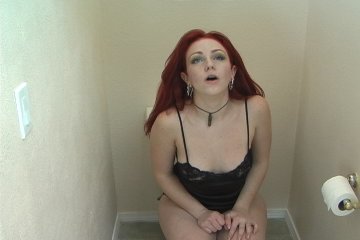 "oooooooooooh, that was something! Kinda like rocket fuel!"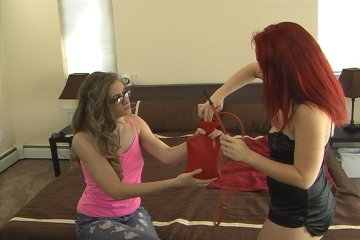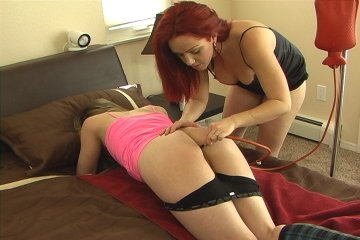 Michelle decided she wanted to try it, but, first, she needed a cleansing enema, so Jen did her up in fine style.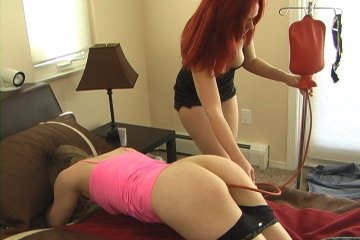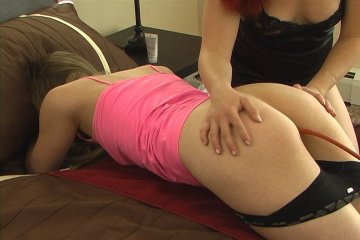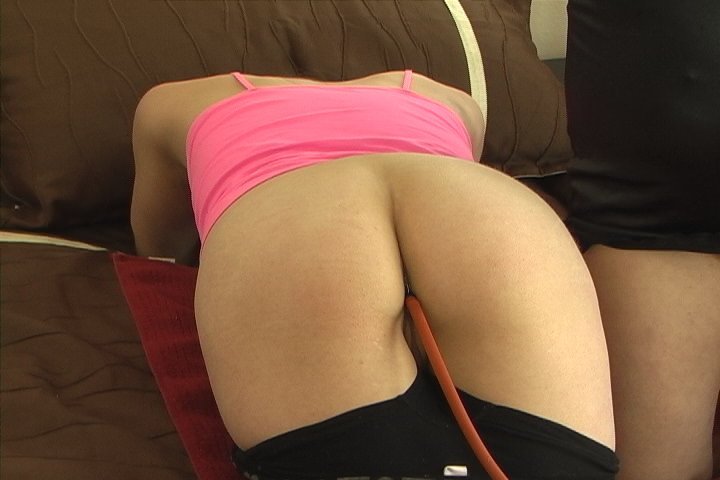 And gave us all some fine views of Michelle's nice bottom, while she did it!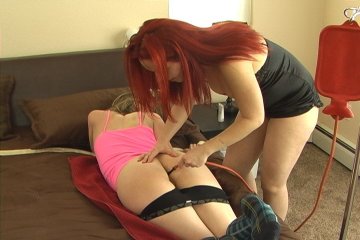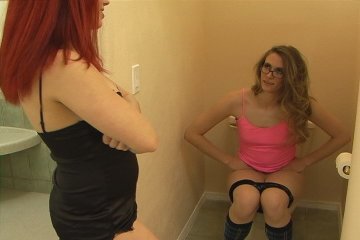 This is the, "Well, how was that?" moment. And it was fine!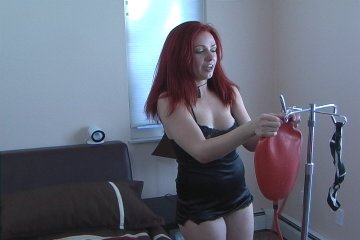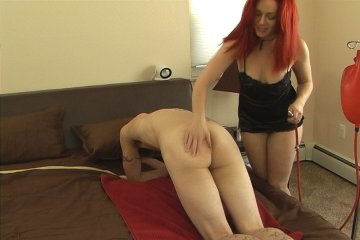 Now it was Justin's turn for a cleanout before his coffee. Jen started him off with a hard slap!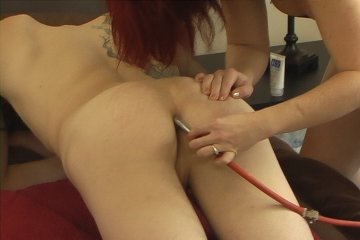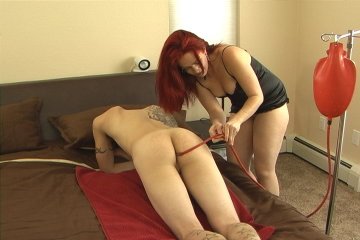 Then, a big gush!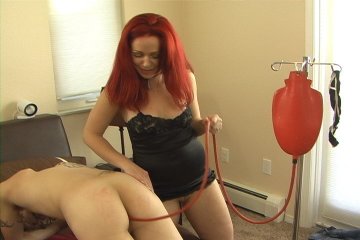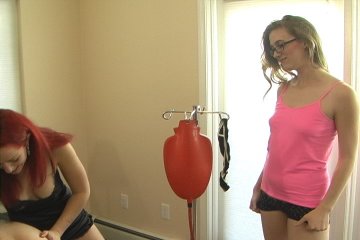 Michelle watched the fun.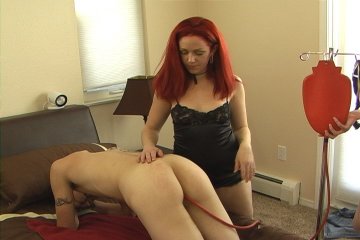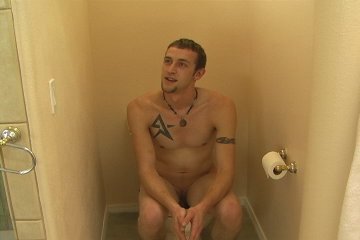 Michelle made sure the bag was empty before Jen let Justin run to the loo.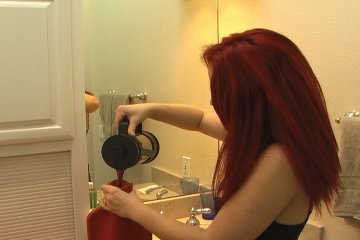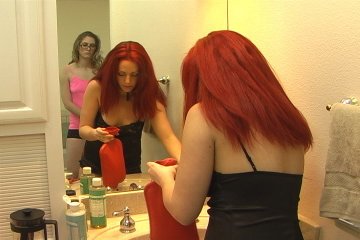 Then, it was Michelle's turn for coffee.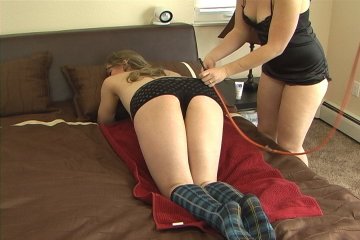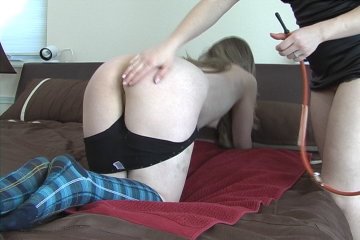 Jen took her time, teasing Michelle a bit.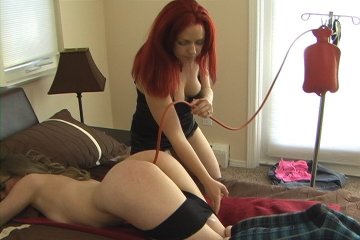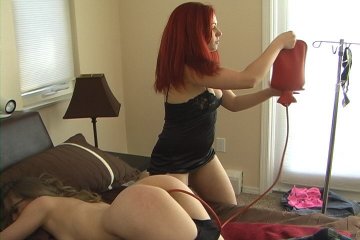 Then she remembered which side up the combination syringe was supposed to be.
We really love the shape of Michelle's derriere!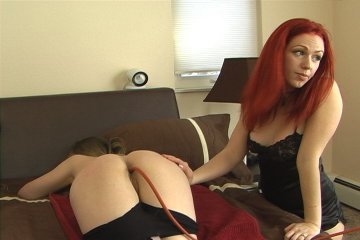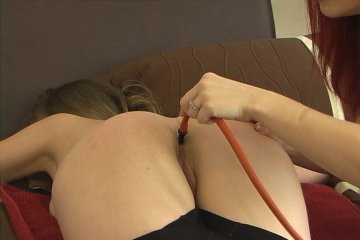 Jen filled her up and uncorked her.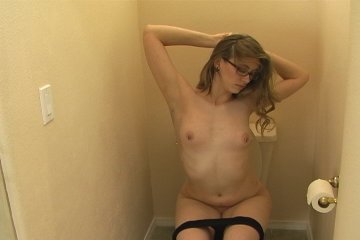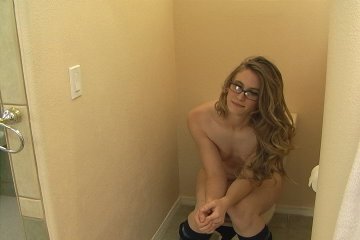 And Michelle was left to contemplate the caffiene rush.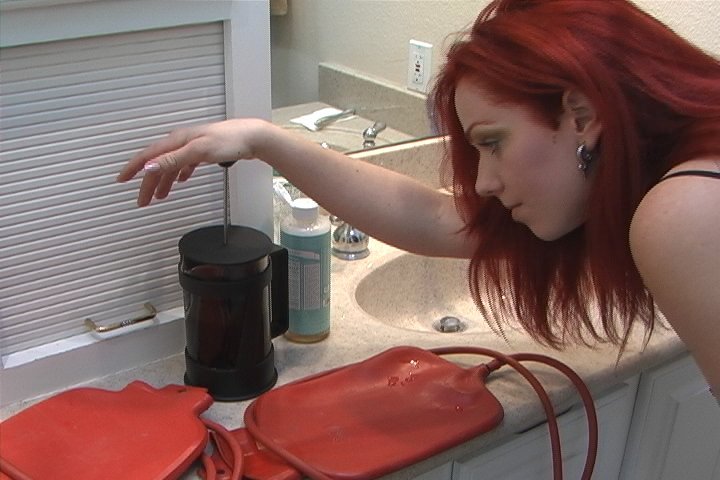 Lastly, Jen brewed up Justin's enema.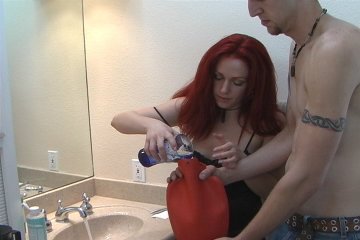 Just enough cold wwater to make the enema the proper temperature.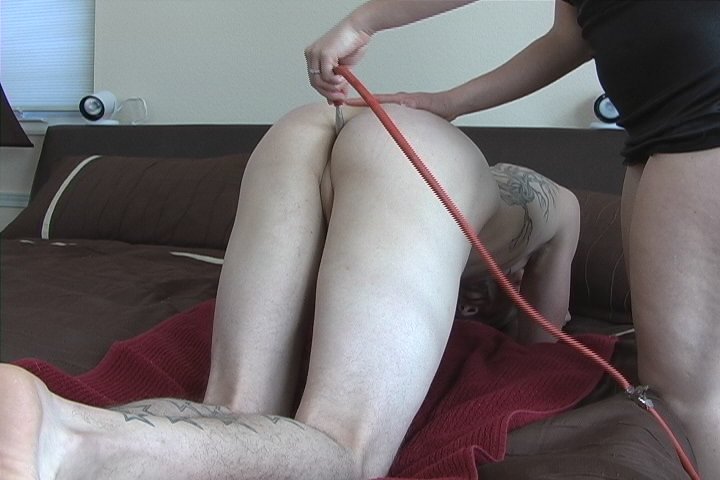 Here we go!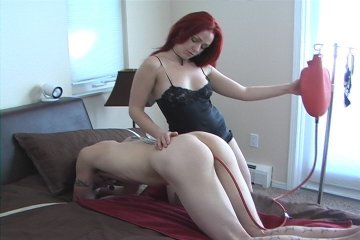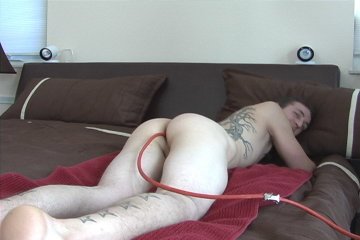 She gave Justin a fast one!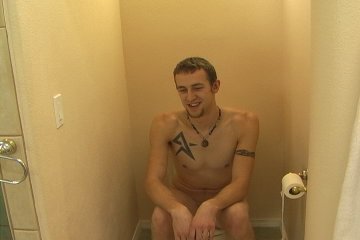 And he enjoyed the caffiene rush, too!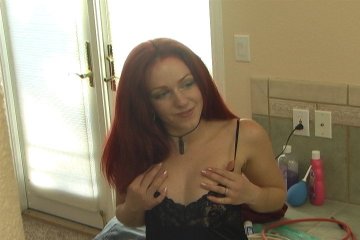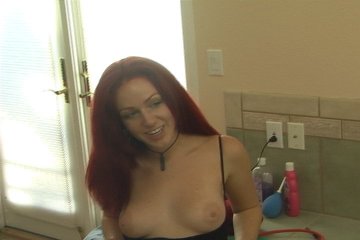 He also enjoyed it when Jen, sitting across the bathroom, decided to show him (and us) a little more of her assets.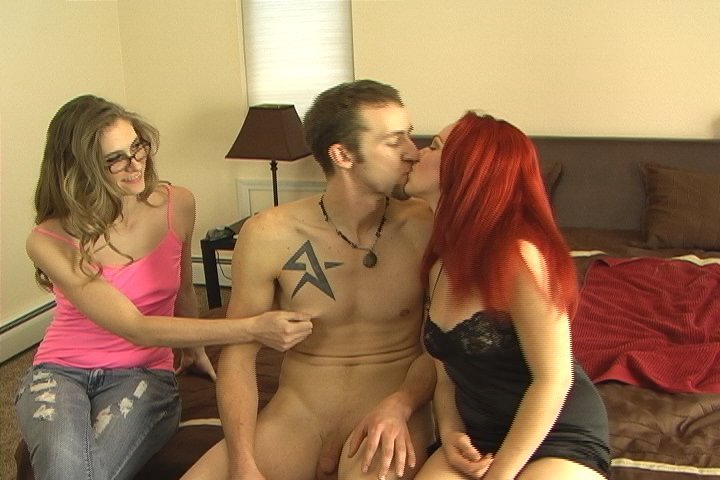 The three friends decided that this just had to be the first in a series of many happy enemas. But first, it was time to go get something to eat. Of course, leave it to Michelle to give Justin a "Titty Twister" just as he was kissing Jen!
If you liked "Loving Couples", you'll love our new "Loving Threesome"!
Time: 1 Hour 3 Minutes
Price: $80.00
Click here to order - or select a link, below.
HOME / ENEMAROTICA VIDEOS / STONEFOX VIDEOS/ WHAT'S NEW /ENEMA PHONE SEX/ EQUIPMENT / STORIES / LINKS / CONTACT US
18 U.S.C. Section 2257 Record Keeping Compliance Notice
The Collector hasn't raised video prices in over ten years. Interested in knowing how we price our videos? Click here.
Copyright © April 2012 www.Enemarotica.com